David Tennant's Prep for His Doctor Who Return Involved Michael Sheen's Impressions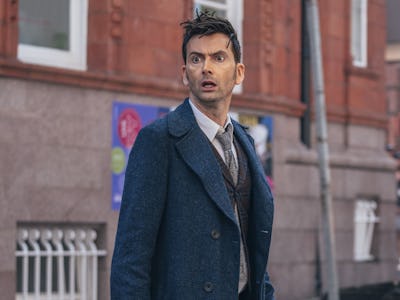 BBC
David Tennant is making history with his return to Doctor Who. He's the first actor in the show's 60-year run to reprise the role of the Doctor after parting ways with it, and he's the first to play a completely different incarnation.
Yes, Tennant's 14th Doctor will be a different person than the 10th Doctor, who he played for nearly five years starting in 2005. Tennant's new Doctor might share the same face (and penchant for saying "What?!") as the 10th Doctor, but he carries all the key memories and personalities of the past three doctors. Which must mean Tennant went back to watch the seasons of Doctor Who led by Matt Smith, Peter Capaldi, and Jodie Whittaker, right? Not quite.
"When we were filming Good Omens, I just acted out key moments from the other doctors in between, and that was his research, wasn't it?" Michael Sheen tells Inverse in an interview for Good Omens Season 2 held prior to the SAG-AFTRA strikes.
"That was enough!" Tennant adds. "Michael's Jodie is particularly good. It's excellent."
Apparently, Tennant makes a habit out of not preparing for a role, per Sheen, who joked that his Good Omens co-star hasn't even read Neil Gaiman and Terry Pratchett's original 1990 book. (Tennant insisted he has.)
But for the three 60th anniversary specials in which Tennant is set to star, he might not need to do such extensive research. The specials, called "The Star Beast," "The Blue Yonder," and "The Giggle," seem to exclusively deal with either ancient Doctor Who threats or unresolved plot threads from the 10th Doctor era. "Why did this face come back? To say goodbye?" the 10th Doctor's former companion, Donna Noble (Catherine Tate), wonders in one of the trailers for the anniversary specials. That seems to be the case.
Tennant and Tate were one of the most popular Doctor-companion pairings in the franchise's long history, and the anniversary specials' focus on them seems to indicate that they'll wrap up their tragic parting. Tennant doesn't need to know everything Smith, Capaldi, and Whittaker did just so the Doctor can say goodbye to Donna Noble again. Then again, it wouldn't hurt.
Good Omens Season 2 premieres on Prime Video on July 28. The Doctor Who 60th-anniversary specials will air on BBC in November 2023.