Disney Is Following a Disturbing Netflix Trend
Brace yourself. Password crackdowns are coming.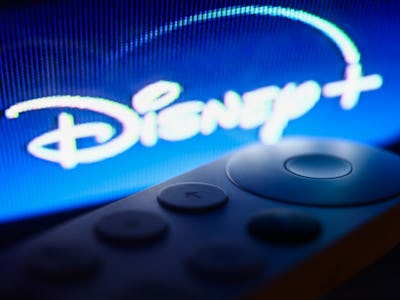 NurPhoto/NurPhoto/Getty Images
Remember when Disney+ was less than seven dollars a month? Those were the good old days, back when Disney was only just beginning to enter the streaming wars. At the time, their $6.99 subscription was a steal, one designed as a clear challenge to Netflix's standard $12.99 plan. But that deal was short-lived, as Disney+ has since hiked their subscription prices into the double digits. A traditional ad-free tier now goes for $10.99, and while that's still a bit better than Netflix's new prices, it won't be for much longer.
Following a steep decline in new subscribers, Disney is raising the price of its streaming services across the board. Newly-reinstated CEO Bob Iger announced the company's new strategy at their Q3 earnings call: the ad-free Disney+ subscription will now be priced at $13.99/month, while Hulu's ad-free tier will be raised from $14.99 to $17.99 a month. That's the second price hike this year, and it's not the only update Disney is pursuing.
The company will also borrow Netflix's strategy on password sharing. Netflix subscribers are now obligated to establish a "Netflix household" on their home TV; any devices connected to the same internet provider can share one account. Users can still share access to their accounts for an additional $7.99 a month. The policy ruffled feathers, but despite online grumbling, Netflix's subscription numbers have actually increased since the change. As unpopular as the strategy is, it's achieving real results, and Disney clearly wants to duplicate it.
"We are actively exploring ways to address account sharing and the best options for paying subscribers to share their accounts with friends and family," Iger said on the earnings call. Subscriber agreements will be updated later in 2023, but we may not see the effects of a real crackdown until 2024.
Disney will likely implement a model similar to Netflix's, which allows users in different homes to maintain their profiles for a monthly fee. It's not exactly a good development for your wallet, but if Netflix's success is any indication, many of its users are willing to shell out more money for the convenience of a shared account.
Disney and Netflix's new strategies come hot on the heels of a contested fight for streaming residuals. The current writers' and actors' strikes have revealed how unsustainable streaming really is. Streaming metrics have always been tricky, if not outright opaque, but now that the streaming bubble has burst, companies are forced to account for tangible losses. Price hikes are never convenient, but this might be what's needed to ensure fair pay across the board — not just for the CEOs at the top of the food chain, but for the artists doing the work on the ground.