Warner Exec Reveals DC's Plan to Avoid Marvel's Worst Mistake
HBO is betting big on superhero fatigue being misunderstood.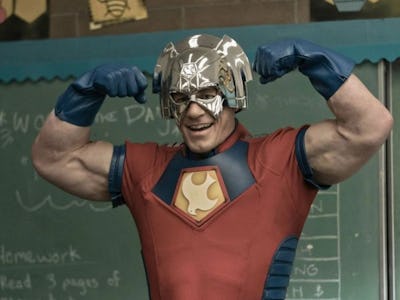 Max
There's no question that audiences are getting a little tired of superheroes. Marvel is being beaten at the box office by biopics like Oppenheimer and comedies like Barbie. Every new superhero show is met with derision or, at best, apathy. But Warner Bros. Discovery, which has accumulated a slate of acclaimed and anticipated DC shows, isn't planning to slow the superhero train anytime soon.
At a press event attended by Inverse that previewed the 2024 Max and HBO slate, HBO CEO Casey Bloys reiterated his plan for Max to be the hub of "tentpole shows" adapted or spun off from Warner Bros. movies. Shows like Welcome to Derry and Dune: Prophecy are part of the plan to turn Warner Bros. properties like It and Dune into mega-franchises, while HBO intends to keep the Game of Thrones fire burning. But a major part of the strategy is, of course, DC.
James Gunn introduced his new DCU as an eight to 10-year plan encompassing TV and movies. Shows like Creature Commandos or Peacemaker will lead to movies, and vice versa. Actors will be recast, popular one-off movies like The Batman and Joker will exist in their own bubble universes... it all sounded like a lot of superhero stuff for a world that's fast tiring of it. But Bloys has a solution to avoiding superhero fatigue: diversity.
"I think tentpole fatigue is telling the same story over and over again," Bloys said. Bloys noted that while he admired Marvel's output of movies and shows, the studio might be suffering from fatigue "because there's a lot of them." While Bloys couldn't give a concrete answer on how many DCU projects were in development at Max, nor what the timeline would be after Gunn's Superman: Legacy, he claimed Warner Bros. is planning to avoid Marvel's oversaturation pitfalls.
"DC is trying to tell different stories, different styles, to not do the same show over and over again," Bloys said. "Peacemaker is a different show than Penguin. There's not a uniformity."
Bloys isn't worried that Max's plan for more tentpole shows will lead to franchise fatigue in general, either. "I'm not doing a preset where I say we need three Game of Thrones shows at this time," Bloys said. We're going to do the shows I think are good."
"When you let quality be your guide, I think that's a good way to balance it," Bloys concluded.
The Penguin premieres on Max in Spring 2024. There is no release date set for Peacemaker or Creature Commandos.