House of the Dragon Season 2 is Coming Sooner Than You Think
The prelude is over. Now the real drama begins.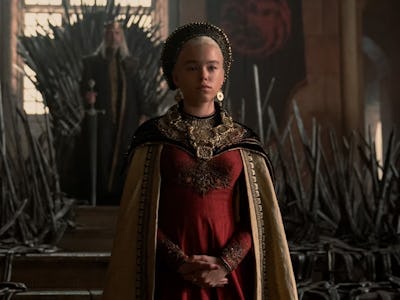 HBO
House of the Dragon put the Game of Thrones universe in a whole new perspective. Over a century before the birth of Daenerys Targaryen, her white-haired family ruled Westeros with an iron fist... and then started to fall apart. Over the course of 10 episodes, we saw characters grow up and unleash political intrigue with marriages and strategic wardrobe choices. It was a worthy successor to the Game of Thrones behemoth, but after the Season 1 finale, it seemed like we were doomed to a lengthy wait for Season 2.
However, HBO has just provided a hopeful update. Despite the odds being stacked against it, Season 2 of House of the Dragon will transport us back to Westeros much sooner than we thought.
At a press event attended by Inverse, HBO CEO Casey Bloys confirmed House of the Dragon Season 2 is now in post-production. Fans can expect to see Season 2 debut in Summer 2024, "only" two years after its August 2022 Season 1 release date.
That's a longer gap than what had been in between most Game of Thrones seasons, but it's a complicated show, and production delays were expected after a summer of strikes. While a little has been lost in the shuffle — Season 2 will have just eight episodes, not 10 — the story will hopefully be streamlined rather than bloat out like Game of Thrones did.
That wasn't the only exciting update from Bloys. The CEO also confirmed that HBO's Dunk & Egg spinoff, based on author George R.R. Martin's more lighthearted stories about wandering Westerosi hedge knights, will begin shooting in 2024, assuming the actors' strike is resolved soon.
That's the only new Game of Thrones spinoff to be greenlit, so if you're looking forward to that perpetually teased Jon Snow show, you may want to temper your expectations. But Bloys made it clear HBO intends to always have Game of Thrones scripts in development, so there's no telling what could come down the pipeline next.
Meanwhile, it's been two years since we last saw Rhaenyra, Daemon, and all their friends and enemies. But considering how well Season 1 was executed, Season 2 should prove to be more than worth the wait... especially now that we won't have to wait much longer.