Marvel's Most Embattled TV Show Just Got a Crucial Lifeline
Daredevil: Born Again is going through some growing pains... but they may be just what the series needs.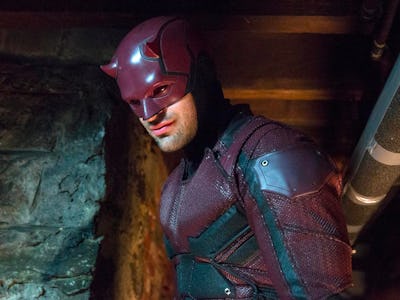 Netflix
As Marvel's Cinematic Universe keeps expanding into its myriad parallel worlds, all eyes are on the franchise's upcoming shows. Daredevil: Born Again is one of Marvel's most anticipated projects, but as a reboot of the MCU's darkest and most mature offshoot, fans and critics alike have been anticipating the series with trepidation. It didn't help to see Charlie Cox, who portrayed Daredevil across three seasons of the Netflix show, reprise his role in decidedly lighter fare like She-Hulk: Attorney at Law. Though Cox was as charming as ever, it was hard to ignore the disconnect. It didn't seem like the weightless cadence of the MCU would be able to accommodate Daredevil's gritty, street-level tone... and with recent reports of a creative overhaul for Born Again, those concerns feel warranted.
Per The Hollywood Reporter, the upcoming Disney+ show has released its head writers and directors, and scrapped the episodes they'd already shot. This heel-turn comes after the reveal that Born Again was skewing too close to a courtroom procedural, neglecting the familiar superhero beats of its predecessor.
The tonal dissonance has forced Marvel to completely rethink its approach to television. Fans may be disappointed by the delay, but this will likely help Born Again. Growing pains are never ideal, but they're necessary for a franchise that's been stuck in a rut for years. Born Again still has a fighting chance, and with a little help from Marvel's biggest TV successes, it might just beat the odds.
Just a few short weeks after word of its overhaul, Daredevil: Born Again is already, well, born again. Marvel has appointed a new showrunner and a fresh pair of directors, according to THR. Marvel alum Dario Scardapane (Netflix's The Punisher, Tom Clancy's Jack Ryan) is set as showrunner, while director duo Justin Benson and Aaron Moorhead will be behind the camera.
Benson and Moorhead are familiar with Marvel's Disney+ tone: the pair directed episodes of Moon Knight and Loki, two of the franchise's more episodic (and risky) projects. Seeing their names attached to what should be Marvel's most mature show so far — along with an alum from Netflix's beloved Defenders-verse — is a comfort. If Marvel is serious about honoring Daredevil's adult tone, few in the MCU are more qualified than Benson, Moorhead, and Scardapane.
With this trio steering the ship, Born Again may succeed in ways Daredevil itself couldn't quite reach. As a Netflix show beholden to the streamer's tried-and-true model, Daredevil didn't always feel like a proper series. It was designed to be binged, and many episodes leaned on a cliffhanger-heavy format. The model served Daredevil well, but as streaming swings back to more episodic fare, Born Again could have a new and exciting tone. Either way, things are finally looking up for the series, and for the Marvel series that will follow.