Blade Will be a Huge Test of Marvel's Bold New Strategy
The MCU won't shy away from the full scope of its darkest hero.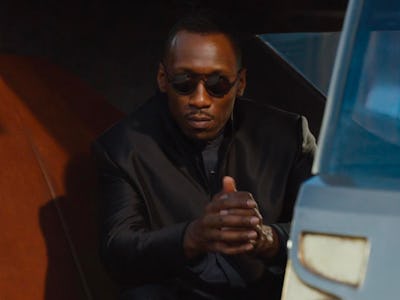 20th Century Studios
Marvel Studios president Kevin Feige surprised everyone when he claimed the franchise had "barely scratched the surface." It's been 15 long years, and Marvel's Cinematic Universe has churned out over 30 films and nearly half as many shows, which is a lot. Arguably, it's been too much.
Thematically, however, the MCU still has a lot of ground to cover. The franchise has been stuck in second gear since Avengers: Endgame. Its attempts to branch out, explore different tones and themes, and lean away from garden-variety white male heroism have yet to pay dividends, but that hasn't stopped Marvel's upcoming projects from trying to push the envelope.
Slowly but surely, Marvel is beginning to embrace more adult territory. Eternals was the first movie since Iron Man to depict sex, while Echo will debut the franchise's new Spotlight banner, home to standalone — and hopefully more mature — stories. And for those hoping Fox's unique tone will rub off on the MCU, there's Deadpool 3, the first Marvel Studios film to get that elusive R-rating. It won't be alone for long.
According to director Yann Demange, Marvel's Blade reboot has also been granted an R-rating. That makes the film, starring Mahershala Ali as the eponymous vampire killer, as much of a milestone as Deadpool 3, and maybe even more so.
Though Deadpool 3 is Marvel Studios' first R-rated film, it doesn't really feel like it. The project will bring Ryan Reynolds's mercenary out of Fox's Marvel continuity and into the MCU's, but it still has the sheen of a Fox film. Thanks to the multiverse (and the Disney-Fox merger), characters like Deadpool, Hugh Jackman's Wolverine, and even Jennifer Garner's Elektra can pop up in the MCU without too much confusion. But they're still associated with the Fox universe, and that disconnect will be hard to shake, no matter what happens in their MCU crossover.
Deadpool 3 is making history for Marvel Studios on a technicality. Blade, however, is an MCU project through and through. It doesn't need the multiverse to justify its existence, and it stands alone as the catalyst of a new era for Marvel.
There's a sense that Deadpool 3 is only rated R because the past two Deadpool films shared that mature rating. It's taken this long for Marvel to shake its tamest practices for the upcoming Echo, and perhaps Deadpool 3 gave Marvel the nudge it needed to embrace more adult storytelling. If that's the case, then great. But Blade will be the real test of what Marvel can do with its new attitude.