Black Mirror Season 6 Episode Descriptions Debunk a Major Aaron Paul Theory
Jesse Pinkman is going to space!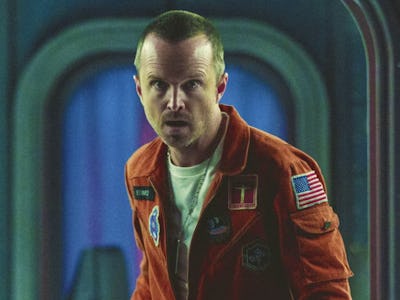 We've been waiting for Black Mirror Season 6 for so long that the real world has started to feel a lot like Netflix's dystopian anthology. But now, the sci-fi show is finally returning. Netflix released a trailer in April, and on Thursday, Entertainment Weekly published a list of episode titles and series descriptions. There are a ton of exciting details, but one episode from Black Mirror Season 6 stands out in particular.
Aaron Paul and Black Mirror
The Breaking Bad actor's inclusion in Season 6 was already confirmed in the trailer, but thanks to EW, we know a lot more about his episode. Here's the site's synopsis:
"Beyond the Sea" takes place in an alternate 1969, where two men on a perilous high-tech mission wrestle with the consequences of an unimaginable tragedy. Directed by John Crowley, it stars Aaron Paul, Josh Hartnett, Kate Mara, Auden Thornton, and Rory Culkin. Given the spacesuit visible in the photo below, it's worth remembering that 1969 was the year that America sent a man to the moon.
If this sounds like a riff on For All Mankind (the Apple TV+ show that imagines an alternate reality where the Russians won the space race), you're probably not wrong. Paul is part of what appears to be an impressive cast playing astronauts on a spaceship — we think. This is Black Mirror, so anything could happen, but it's also worth noting that this isn't the first time Paul has appeared on the show...
In the Season 4 episode "USS Callister," Paul played a small role as the voice of another player in the online video game where much of the episode was set. (It's complicated, but watch the episode if you haven't. You won't regret it.) So when he showed up in the Black Mirror Season 6 trailer, some fans wondered if that meant the new episode would connect directly to "USS Callister," which notably ends on a bit of a cliffhanger.
Based on this episode description, it seems like the answer is no. Aaron Paul's episode takes place in 1969, while "USS Callister" was set in the present or near future. And while it's possible that this episode's big twist could be that the entire thing takes place in a video game, the space race aesthetic doesn't exactly match the USS Callister's Star Trek vibes. Still, when it comes to Black Mirror, we wouldn't rule anything out.
Black Mirror Season 6 Episode Titles and Descriptions
If you're still here, check out the full list of titles and what we know about them:
"Joan is Awful"
Plot: A normal woman discovers that her life has been adapted into a major streaming series. (Can you imagine?)
Cast: Salma Hayek, Annie Murphy, Michael Cera, Rob Delaney, Ben Barnes, and Himesh Patel.
"Loch Henry"
Plot: A couple of nature documentarians visit a quaint Scottish town and uncover a "juicy local story involving shocking events from the past." (It doesn't seem very sci-fi, but still interesting.)
Cast: Samuel Blenkin, Myha'la Herrold, Daniel Portman, John Hannah, and Monica Dolan
"Beyond the Sea"
This is the Aaron Paul episode, check out the full description above.
"Mazey Day"
Plot: A young star tries to deal with the repercussions of a hit-and-run while also avoiding the paparazzi. (Not sure what the Black Mirror twist is here, but we'll find out.)
Cast: Zazie Beetz, Clara Rugaard, and Danny Ramirez.
"Demon 79"
Plot: Set in 1979 in northern England, the story follows a sales assistant who's forced to "commit terrible acts" to stop a calamity. (Sounds familiar?)
Cast: Anjana Vasan, Paapa Essiedu, Katherine Rose Morley, and David Shields
Black Mirror Season 6 premieres this June on Netflix.