Batwoman Season 2 release date, cast, trailer, villain for CW show
Goodbye Kate Kane, hello Ryan Wilder. Here's everything to know about the recast of the CW show.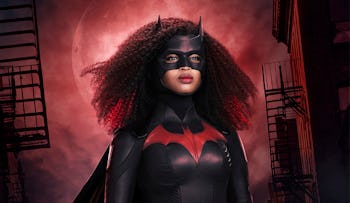 This article about Season 2 of the series Batwoman was originally published on May 20, 2020 and updated on December 19, 2021 following the release of the season on The CW. Read on for the original article, with some new changes to reflect the latest updates on this topic.
Batwoman was arguably the sleeper hit of The CW's last TV season. After a shaky start, Season 1 came into its own as a well-crafted and intriguing must-watch. Season 2 was renewed early in 2020, and it seemed Batwoman was finally hitting its stride. However, a few speed bumps threatened to bring things to a halt for a while.
Due to Hollywood-wide production shutdowns, Batwoman Season 1 ended two episodes shy of its 22-episode order. However, the series' unintended season finale still managed to introduce quite a few storylines that cleverly set up Season 2 and culminated in Alice's successful transformation of Tommy Elliott, aka the villainous Hush, into none other than Bruce Wayne.
Ruby Rose departed the series in mid-May, and Season 2 has since cast Javicia Leslie in her place as Batwoman — not to play Kate Kane, but an original character named Ryan Wilder. Here's everything to know about that and Batwoman's sophomore season overall.
When was the Batwoman Season 2 release date?
Batwoman's Season 2 premiered on January 17, 2021. Typically, Season 2 would have launched in October 2020. But The CW pushed back its fall programming schedule due to COVID-19 and the subsequent production delays.
Which cast members returned in Batwoman Season 2?
Other than Ruby Rose, every series regular from Season 1 — including Rachel Skarsten, Camrus Johnson, Meagan Tandy, Nicole Kang, and Dougray Scott — returned for the next season.
According to Deadline, Rose and the show's team weren't happy and mutually decided to sever their working relationship. In a statement, Rose explained stepping down from the iconic role wasn't an easy choice to make.
"I have made the very difficult decision to not return to Batwoman next season. This was not a decision I made lightly as I have the utmost respect for the cast, crew and everyone involved with the show in both Vancouver and in Los Angeles."
Later, Rose broke her silence on the matter and posted a fan-made video to her Instagram. She once again thanked the cast, crew, producers, and the studio for the opportunity. She wrote more about leaving, though she only offered enough to hint that there might be more to the story.
"It wasn't an easy decision but those who know, know.. I didn't want to not acknowledge everyone involved and how big this was for TV and for our community. I have stayed silent because that's my choice for now but know I adore you all."
In addition to the Season 1 cast, Shivaani Ghai, Leah Gibson, and Nathan Owens were cast to play Safiyah Sohail, The Whisper, and Ocean in Season 2, respectively.
Who played Batwoman in Season 2?
Early reports suggested that The CW would simply recast the role of Batwoman. Same character, different actress. It's happened plenty of times before on television. However, the big plot twist came when it was announced that the role of Kate Kane / Batwoman would not be recast for Season 2 at all.
Instead, Batwoman brought in an entirely new character donning the cape and cowl. The CW cast Leslie in the role of Ryan Wilder. Here's a character description for this mysterious new character, which you can read below.
"She's likable, messy, a little goofy and untamed. She's also nothing like Kate Kane, the woman who wore the batsuit before her. With no one in her life to keep her on track, Ryan spent years as a drug-runner, dodging the GCPD and masking her pain with bad habits. A girl who would steal milk for an alley cat could also kill you with her bare hands, Ryan is the most dangerous type of fighter: highly skilled and wildly undisciplined. An out lesbian. Athletic. Raw. Passionate. Fallible. And very much not your stereotypical All-American hero."
Speaking at ATX TV's virtual festival (via Deadline), showrunner Caroline Dries addressed the choice to replace Kate instead of recasting Ruby Rose.
"To be honest with you, I did consider the soap opera version for a hot minute, selfishly because we had already a couple of episodes written, and transition-wise it would be seamless. Upon further reflection — and Greg helped me make this call, he is way smarter than me about this sort of stuff — he said, you know, we should just reboot the character in terms of reboot Batwoman as a different character, and also respect everything that Ruby put into the Kate Kane character. And I just think it helps the audience a little bit too, that we are not asking them to not address the elephant in the room."
Shortly after Dries discussed the decision to introduce an entirely new character in Season 2, rumors began circulating that not only would Kate be replaced as Batwoman, but that the writers were planning on killing her character off. The showrunner took to Twitter to address the rumors, assuring that Kate would not die.
What's the plot of Batwoman Season 2?
Season 1 left off with Alice making plans to acquire Kryptonite — yes, the very same green rock that can kill Superman and Supergirl — by sending Tommy Elliott in the visage of Bruce Wayne to retrieve it from the billionaire's company.
Season 2 began with the crash of Kate Kane's plane from National City, removing the character from the show. That gives homeless ex-con Ruby a Batsuit, and the season revolves around her attempting to step into the new responsibility that she's been provided. While she and Sophie don't get along at first, as the latter will be mourning Kate's disappearance, Ryan is able to pull her out of her shell.
Who is the villain of Batwoman Season 2?
Julia Pennyworth is being hunted by Safiyah Sohail, a mysterious character who murdered Alice's Wonderland Gang. In the comics, Safiyah is the leader of the fictitious Coryana, a pirate island nation. Safiyah's arrival in Gotham has been hinted at for several episodes in the back half of Season 1. Safiyah is described as the "fiercely protective ruler of a small community on the island of Coryana." Read the rest of the character details below:
"A woman with as many enemies as aliases, she is compassionate and charismatic with both physical and psychological prowess. She is beloved by her people and will stop at nothing to protect what's hers. No one goes unnoticed by Safiyah, specifically when it comes to those who have encountered the Desert Rose."
Additionally, Season 2 saw the introduction of Roman Sionis (Peter Outerbridge). While Sionis is the Janus Cosmetics CEO, he moonlights as the mysterious "Black Mask," a crime lord who only forgives someone after he kills them. He fakes Kate Kane's death and surgically transforms her into the likeness of his daughter Circe, who died during Alice's Arkham Asylum breakout.
Is there a trailer for Batwoman Season 2?
The official trailer for Batwoman Season 2 dropped in December 2020. You can watch it below:
Is Batwoman on Netflix?
Unfortunately not. While the other Arrowverse shows, like The Flash and Supergirl, have been made available on Netflix a week after their season finales, The CW has a different deal for newer shows like Batwoman. However, the series is streaming on HBO Max.
Was Batwoman renewed for Season 3?
Yes! The choice to move from Kate Kane to Ryan Wilder stuck, as The CW renewed Batwoman for Season 3. The show returned for a shortened 11-episode season on October 13, 2021.
Batwoman Seasons 1 & 2 are currently streaming on HBO Max.
This article was originally published on