'Batwoman' Fans Are Reacting to Ruby Rose's Casting With Split Opinions
Some comic fans are angry that Kate Kane's Jewish heritage took a backseat.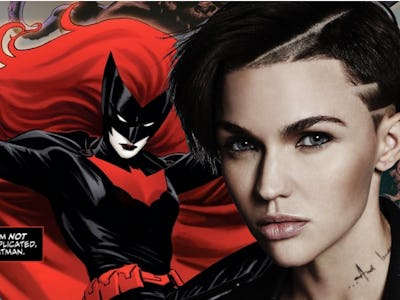 The CW announced Tuesday that Orange Is the New Black's Ruby Rose will play Batwoman in the first green lit lesbian superhero TV series. Rose, whose acting career includes action thrillers like John Wick 2 and The Meg, rose to prominence as a genderfluid model whose lesbian relationships on and offscreen cemented her as an LGBT pioneer.
But once the news hit Twitter and Tumblr that Rose would star as Jewish, lesbian Kate Kane, the character behind Batwoman, reception was mixed. Some were thrilled that showrunner and lesbian Caroline Dries, along with producer Greg Berlanti and the CW, were fulfilling their goal to audition and cast a lesbian actress:
Others were disappointed in the decision. Amid positive reception, some fans have expressed disappoint with Rose's casting. The reasons vary, but overall, the response from her detractors are that a lesser-known lesbian actress should have been given the chance to star, that Rose isn't a good enough actress, and that the choice ignores Kane's Jewish heritage.
Some Fans Are Underwhelmed by the Batwoman Casting Choice
Rose began her acting career as a model and artist. A YouTube video that she directed, produced, and starred in about her gender identity titled "Break Free - Ruby Rose" propelled her to popularity after it racked up millions of views. If the Batwoman series is green lit for further production, this will be her biggest, and only starring role, to date. That has some fans concerned about her ability to play the superhero — a fear that others disregard, considering the CW's typical slate of shows doesn't necessitate Oscar award-winning performances.
Other Batwoman fans were rooting for lesser-known lesbian actresses, like Ashley Platz, whose audition tape for the role was leaked on Twitter. Platz responded to #recastbatwoman tweets herself by supporting Rose and saying that she will "work her ass off to fulfill the character."
And other detractors recalled the meme that Rose was "turning straight girls gay" after her OITNB casting, a problematic joke that the actress herself stated was "not really a possibility"
Some Feel Batwoman Should be Played by a Jewish Actress
The first iteration of Batwoman in print hit shelves in 1956. But the modern Kane, who appears in the 2006 52 DC comic series, is a lesbian dressed in a black-and-red Batsuit with combat boots and military training experience. She's also Jewish, as pointed out by a Tumblr user who thinks Rose's casting is "goywashing."
The notion that Rose shouldn't play Kane, who openly identifies as Jewish multiple times throughout her 52 appearances, stems from the belief that ethnically Jewish characters should be played by ethnically Jewish people, and by extension, Jewish actors.
This line of thinking reflects other conversations related to media representation of sexuality, ethnicity, and religion, including the backlash Scarlett Johansson received for her casting as a transgender man in the upcoming film Rub & Tug. She eventually withdrew from the role.
That Rose would need to be an ethnically Jewish woman or have Jewish heritage to play Kane calls into question how extensive the comic book character's Jewish heritage:Her character is drawn as a white woman with red hair, and Kane's exact ethnicity isn't 100 percent confirmed.
Inverse reached out to Rose and the CW for comment on the backlash, and whether the show plans to incorporate Kane's Jewish heritage. Inverse also asked Rose if she has Jewish heritage, but did not receive an immediate response.
Backlash Over Ruby Rose's Casting Is Met by Anti-Backlash
Between replying to congratulations and retweeting articles and feedback to her casting, Rose replied to an unrelated tweet with a response that may have indicated she saw backlash to her new role.
Besides the detractors on Twitter and Tumblr, other celebrities, news outlets, and fans of Batwoman and Rose tweeted excitement over the casting. Janelle Monáe, the R&B singer who recently came out as bisexual and in a relationship with actress Tessa Thompson, praised the decision. And Laverne Cox, Rose's OITNB costar and out transgender actress*, tweeted about the role too.
Other fans are excited to see Rose embody Kane's vigilantism.
CW producer Sarah Schechter hinted that a "bad ass Batwoman" is in the works for the network. The first appearance of Rose's Batwoman will be in upcoming annual DC TV crossover episode.
Rose will also appear on The Tonight Show Starring Jimmy Fallon Wednesday, where she'll almost certainly discuss the casting.