Arnold Schwarzenegger's New Netflix Show Channels His Most Underrated Movie
FUBAR brings Arnold Schwarzenegger to scripted TV, and into a role he's suited for.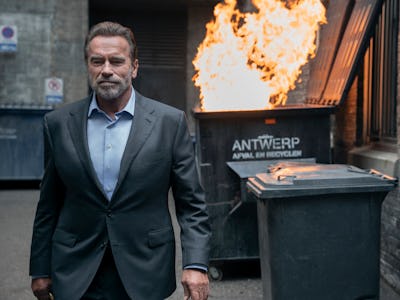 Netflix
Yet another Hollywood action star from yesteryear is making the leap to streaming TV. This time, it's Arnold Schwarzenegger taking over your next binge weekend.
On February 27, Netflix released a 30-second teaser for FUBAR, a new action comedy series from showrunner Nick Santora (Reacher, Scorpion) starring Arnold Schwarzenegger in his first TV role (or, at least, his first scripted role; as you almost certainly don't remember, he briefly hosted The New Celebrity Apprentice). While the teaser doesn't reveal much beyond Schwarzenegger being a badass, the premise sounds like classic '90s action.
Schwarzenegger plays a veteran CIA operative who learns his daughter (Monica Barbaro, Chicago Justice) is also an experienced agent. When they're assigned to a case as partners, the two find out who they really are. Netflix's official synopsis says FUBAR tackles "universal family dynamics set against a global backdrop of spies, action and humor."
The series is a product of Skydance Television and will drop eight hour-long episodes on Netflix on May 25. You can watch the teaser below.
In a statement by Schwarzenegger, he talked up his 1994 film True Lies, which shares its tone with FUBAR.
"Everywhere I go, people ask me when I'm going to do another big action comedy like True Lies. Well, here it is," Schwarzenegger said. "FUBAR will kick your ass and make you laugh — and not just for two hours. You get a whole season. It's been a joy to work with Nick, Skydance, and Netflix to give my fans exactly what they've been waiting for."
Nick Santora, whose body of work is made up of gritty procedural TV dramas about spies and outlaws, described FUBAR as "the most surreal project of my career."
While True Lies was one of the highest-grossing films of 1994, it feels like it's sometimes overlooked in the filmographies of both Schwarzenegger and director James Cameron. Schwarzenegger boasts franchises like Conan, Terminator, the Expendables, standalone sci-fi classics like Predator, and The Running Man, and family comedies like Jingle All the Way. When your resume is that stacked, it's easy for a movie like True Lies to fall through the cracks. But if Schwarzenegger is telling the truth when he says audiences are demanding more, then fans are finally getting what they want.
FUBAR will premiere on Netflix on May 25.