Will There Be an Aquaman 3? Director Gives an Encouraging Update
DC's moistest hero might not be done just yet.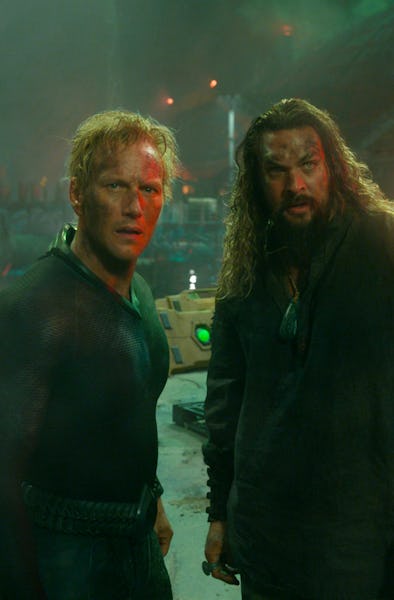 Warner Bros. Pictures
The end is nigh for DC's embattled extended universe. Aquaman and the Lost Kingdom, the sequel to DC's first billion-dollar blockbuster, is set to wrap the DCEU in a nice red bow this holiday season. Its race to the finish line, however, has been encumbered by a fair amount of bad press: reports have swirled about behind-the-scenes drama, casting doubt on whether the sequel will succeed.
It doesn't help that Aquaman's role in the new DC Universe, led by James Gunn and Aquaman producer James Safran, is still up in the air. With a new guard comes an all-new cast of characters, so this could be Jason Momoa's last run as the King of Atlantis. It's been rumored the actor will transition to a role as Lobo in the new universe; other theories point to another Aquaman adventure, this time set in a DC "Elseworlds" storyline. But whatever the future holds for the hero, Aquaman director James Wan is optimistic about continuing his adventure.
Wan has been The Lost Kingdom's most vocal defender; the filmmaker has debunked many of the reports alleging problems with his production. "I'm a pretty private person. I don't get on social media and have fights, but it's difficult because this narrative has emerged that is not the reality," Wan recently told Empire.
Though Wan was previously wary about returning for Aquaman 3 when he spoke to EW in 2021, he seems much more open to a third film now, as long as he can enjoy "the same freedom" he had with Aquaman and The Lost Kingdom.
"I haven't directed a third movie [in a series] before, so I'd be open to doing another [Aquaman]," Wan said. "I'm not sure what direction [Gunn and Safran] are going in, though, so who knows? I've learned to never say never."
Despite accounts of studio meddling from the new DC co-heads, Wan's working relationship with Gunn and Safran seems to be in a good place. Wan and Safran were collaborators long before Aquaman: Safran produced each of Wan's Conjuring films, so there's a chance their partnership could continue in a third Aquaman film.
Regarding reports that Gunn "weighed in" on The Lost Kingdom reshoots, Wan was a bit more firm. "I've known James since way back, right?" he told EW. "We're horror guys, and so I'm definitely open to ideas. But, at the end of the day, this is my movie."
Wan is confident about his vision, and about the potential of the Aquaman franchise. "Ultimately, I feel I have more than proven myself," he said in his sit-down with Empire. He's not wrong. Wan is among a handful of directors who's defied his journeyman reputation at every turn. His unique vision has been a rare bright spot for the DCEU, and if The Lost Kingdom can deliver on the same level as its predecessor, there's no reason to sideline the franchise's biggest success.
Aquaman and the Lost Kingdom hits theaters on December 20.