Hollywood's Most Quietly Successful Director Deserves More Credit Than He Gets
When it comes to pure popcorn entertainment, the Aquaman 2 filmmaker is unrivaled right now.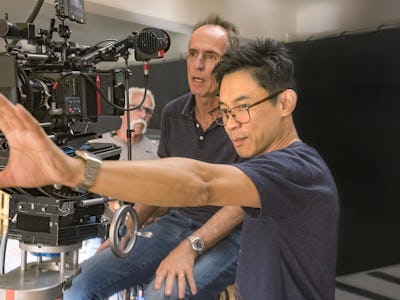 Ron Batzdorff/Warner Bros. Pictures
James Wan has quietly had one of the most successful careers of any studio filmmaker of the past 30 years. Since 2004, he's directed the first installments in three major, still-ongoing horror franchises (Saw, Insidious, The Conjuring), and has dipped his toes into the superhero (2018's Aquaman) and action (Furious 7) worlds as well. As a producer, he's even helped usher in several noteworthy horror voices, including David F. Sandberg (Lights Out), Akela Cooper (Malignant, M3GAN), and Michael Chaves (The Curse of La Llorona).
Despite his numerous accomplishments, Wan is rarely talked about as one of the most noteworthy, let alone best, filmmakers of his generation. However, if there's one thing that the trailer for his latest film, this year's Aquaman and the Lost Kingdom, confirmed, it's that Wan isn't just a competent journeyman director. He's a genuine auteur — one whose style has been imitated by many but never successfully replicated.
In the years since Wan directed its initial 2013 film, the Conjuring Universe has expanded at a rapid rate. To date, Wan has only directed two of its entries, The Conjuring and The Conjuring 2, but the quality of both films has yet to be matched by any of the franchise's other installments. Even this year's The Nun 2, which is a marked improvement on its predecessor, fails to make its titular character as terrifying as Wan did in The Conjuring 2. There are a few reasons for that (the film's obsession with its own plot being one of them), but it's partly due to the disappointing briefness of many of its set pieces.
In both of his Conjuring efforts, Wan luxuriates in the moments leading up to those films' jump scares. The scene above, for example, forces you to follow Lili Taylor's Carolyn as she tries to find the source of the unseen clapping coming from somewhere in her family's newly bought farmhouse. Following her as she makes her way through the house, Wan never gives you more information than Carolyn — forcing you to experience the same paranoia, discomfort, and increasing fear as her.
The same can be said for the sequence included below, which features the same demon as The Nun 2 but stretches out its mind games until the tension is practically unbearable. Whether it's the living room of a haunted farmhouse or the office of Vera Farmiga's Lorraine, Wan is able to turn the interior spaces of his horror films into arenas of fear that feel both more expansive and claustrophobic than they really are. Behind the camera, there's a perverse giddiness on the part of Wan — one that matches and heightens the malevolence of the films' evil entities.
His blatantly manipulative spirit makes Wan a natural fit for the horror genre, but it's his own wide-angle, maximalist style that elevates his horror movies into full-blown blockbusters. No matter what movie he's making or genre he's operating in, Wan seems solely concerned with making sure that his viewers are always entertained. He cares little about logic or even tone, so long as audiences are fully engrossed in the atmosphere, space, and action of what's happening onscreen.
That aspect of his filmmaking is on full display throughout the first trailer for Aquaman and the Lost Kingdom, which is silly and cartoonish but also eye-catchingly colorful, artificial, and fun. The teaser makes it clear that no one involved in the Aquaman sequel has taken its story too seriously, which feels like a balm in an era when many superhero movies are so obsessed with their own lore that they're often rendered dull, lifeless, and unnecessarily somber.
The powerful black trident in The Lost Kingdom is literally called "The Black Trident," and there's even a joke early in the trailer about Arthur Curry (Jason Momoa) needing to dry his Aquaman costume. These details make it clear that Wan is very much in on the joke, which not only means that we can be, too, but that viewers will be able to sit back and just have fun when The Lost Kingdom hits theaters.
His darkly funny sense of humor and unabashed interest in popcorn entertainment make Wan seem like the closest any filmmaker alive has come to being Sam Raimi's spiritual successor. That is, to be clear, a very good thing. Moviegoers, in general, are in need of more Raimi-like filmmakers — directors who can make fun, occasionally grotesque genre movies that are also technically accomplished. And just like Raimi, Wan is very much his own kind of auteur.
In an age when even a film like The Nun 2 can get bogged down by its own plot, the director's maximalist, lighthearted approach is something more filmmakers and franchises could benefit from adopting.
Aquaman and the Lost Kingdom is set to hit theaters on December 20, 2023.