Aquaman 2 Trailer Reveals a Huge Upgrade for its Supervillain
Aquaman and the Lost Kingdom is teasing a massive rematch between the DC hero and Black Manta.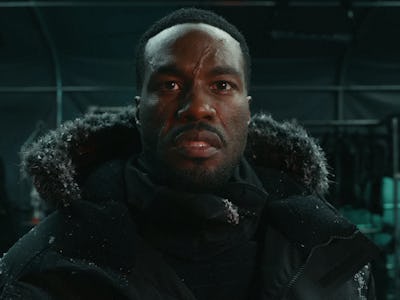 Warner Bros. Pictures
The last days of DC's Extended Universe are finally upon us, but with Aquaman and the Lost Kingdom, there's a high chance this chapter of the DC saga will end with a bang, not a whimper.
The highly-anticipated sequel to DC's billion-dollar baby is set to unveil its first trailer this week, and the studio is rolling out the red carpet in spectacular fashion. DC even dropped a trailer for the trailer of Aquaman 2, so it's safe to say they mean serious business. And though we won't get the full scope for a few more days, the Lost Kingdom teaser offers a glimpse at the spectacle to come.
DC has steadily shared images of Jason Momoa's title hero throughout production, but fans can finally see him in action in the Aquaman 2 teaser trailer. It also reveals the return of Aquaman's former adversaries. Patrick Wilson is back as Orm, the erstwhile King of Atlantis and Aquaman's resentful half-brother. Yahya Abdul-Mateen II also returns as Black Manta, the mercenary-turned-tech-wiz on a path of revenge.
That Black Manta would be back to raise hell in Aquaman and the Lost Kingdom is no secret, but the manner of his return might have just been highlighted in the new trailer. Orm is attacked by a massive, tentacled mech in some sort of underground cavern. We don't see who's piloting this terrifying machinery, but it's not difficult to guess.
In Aquaman, Manta and Orm were reluctant allies. They shared a common goal: destroying Aquaman by any means necessary. Orm even gifted Manta the technology that he used to create his iconic black suit. It wasn't quite enough to defeat Aquaman, though, and Manta finds himself adrift in the ocean after his first battle with the hero.
Manta is gunning for a rematch against Aquaman — and, apparently, "everything he holds dear" — in The Lost Kingdom. While Orm and Aquaman aren't exactly simpatico, they are brothers, and Manta's quest for revenge could result in Orm's capture in the sequel. Since Manta is teaming up with Dr. Stephen Shin (Randall Park) to locate Atlantis and murder Aquaman, it's possible this new duo will start by interrogating Manta's closest connection to the underwater kingdom.
More importantly, if it is Manta facing off with Orm in the trailer, we could be witnessing the dawn of Mecha Manta, a giant, AI-powered robot that the villain uses to revive his late father in the comics. The AI is another gift that Manta receives from a famous DC antagonist. In the comics, it's Lex Luthor who creates the tech and the weaponized mech it resides in. While the robot we see in the teaser isn't nearly as advanced as the entity from the comics, it feels right in line with Manta's own penchant for tinkering.
Manta needs all the resources he can get for his rematch against Aquaman. That includes the mysterious green tech sprinkled throughout the teaser, but it could also extend to new machinery and suits. He's not quite at Luthor's level, but another adventure could very well equip him with the expertise he needs to build his own aquatic mech. Hopefully, Aquaman and the Lost Kingdom's actual trailer can offer a bit more insight, but it seems Black Manta is getting a few major upgrades either way.
Aquaman and the Lost Kingdom hits theaters on December 20, 2023.