Where is Zeb? Why This Key Star Wars Character Hasn't Shown Up in Ahsoka
The new Star Wars series can't quite get the band back together, but that's not such a bad thing.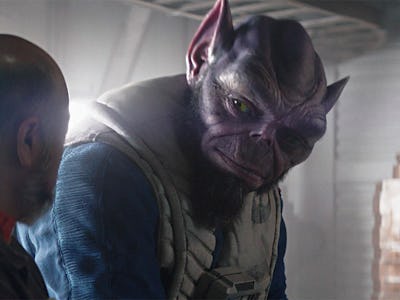 Lucasfilm
Star Wars' latest live-action series, Ahsoka, might just be the saga's biggest gamble. While other live-action series have introduced animated characters before, Ahsoka is the first to build its entire narrative on the foundation of an animated show. It's essentially the fifth season of Rebels; at the very least, it's serving as a live-action reunion for Rebels' main cast. Ahsoka Episode 6 finally introduced two of its most anticipated characters, Grand Admiral Thrawn (Lars Mikkelsen) and Ezra Bridger (Eman Esfandi), but fans are still holding out for one more Rebels mainstay: Garazeb "Zeb" Orrelios.
Zeb is the final surviving member of the Rebels crew. He was the second character from Rebels to make the jump to live-action, and before his cameo in The Mandalorian, his post-Rebels whereabouts were something of a mystery. He spent years fighting against the Empire with Ezra, Sabine Wren (Natasha Liu Bordizzo), and Hera Syndulla (Mary Elizabeth Winstead). While their rebel cell, the Spectres, have since gone their separate ways, Ahsoka brings them all back together for one last mission. Even Carson Teva (Paul Sun-Hyung Lee) is lending a hand in the mounting battle against Thrawn. So why isn't Zeb part of the action?
Where is Zeb during Ahsoka?
It's not 100% clear where Ahsoka falls on the Star Wars timeline, but an Episode 5 Easter egg suggests that it's running parallel to The Mandalorian's Season 3. That means Zeb is probably hanging out on the planet Adelphi or flying missions for the New Republic, while Ahsoka, Hera, and Sabine face off with Thrawn.
Zeb was dressed in a New Republic flight suit when he appeared in The Mandalorian. He's joined the Starfighter Corps, and apparently works closely with Teva. Why his suit is blue while Teva's is orange is still a mystery, but it could hint at his role within the corps. Either way, it's clear Zeb has found a new role in this changing galaxy.
Does Ahsoka actually need Zeb?
While getting another appearance from Zeb would be nice, it's not completely necessary for Ahsoka. With only two episodes remaining, there's not much time left to resolve its central conflict — if it even intends to. The series is crowded enough as is, to the point where it doesn't even feel like a show about its ostensible lead. Another Rebels cameo isn't really what the series needs right now, especially one that would require extensive CGI. Still, there's every chance Zeb could reunite with his fellow rebels in the future.
Ahsoka is working hard to bridge the gap between the main Star Wars timeline and previously unrelated animated series. Showrunner Dave Filoni is taking a major page from Marvel for his so-called Mando-verse, but it still seems to be in its early stages. A cameo in one show may not guarantee an appearance in another, at least not yet. Star Wars will eventually find a way to balance its two halves, but for now, adding more Rebels history to the mix would just feel like homework for casual fans.
Ahsoka is streaming on Disney+.