Zeb's Mandalorian Cameo Matters More Than You Think, Showrunner Reveals
The Rebels character was a delightful surprise. Could we see more?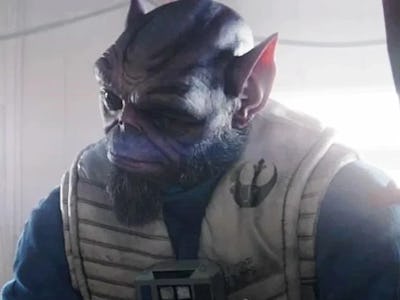 Lucasfilm
The Mandalorian Season 3 Episode 5 was exciting enough thanks to a return to Nevarro, a trip to Coruscant, and the reveal that Bo-Katan Kryze is the chosen one prophesied to unite the Mandalorians. But in its first few minutes, the episode also offered a glimpse at a character beloved and missed by many Star Wars fans: Garazeb Orrelios, better known as Zeb from Rebels.
Zeb appeared in the bar where Carson Teva saw the message left by Greef Karga, and warned Carson that the New Republic had been notoriously slow in answering messages. It seems like a short and simple cameo, but it could have major implications for the future of Star Wars.
At PaleyFest, Jon Favreau and Dave Filoni spoke about The Mandalorian and the latest episode's reveals. When asked about Zeb, it was clear Filoni was hiding things, dancing around Zeb's conversation partner when he said, "When Zeb leaves the room and talks to… you want to know and we want you to know, but it's so much better for you to learn it in the right time…"
This is about as vague as vague can get, but several elements suggest this moment could tie into the upcoming Star Wars series Ahsoka. Ahsoka, a spinoff of The Mandalorian, will feature a number of characters from Rebels, including Sabine Wren, Ezra Bridger, and, if a recent toy leak is to be believed, Jacen Syndulla.
Could one (or all) of these characters be who Zeb talks to when he leaves the room? We know he has some role in the New Republic, but maybe he could be lured away to go on an adventure with Ahsoka and Sabine to find the lost Ezra. It seems unlikely that Star Wars would bother introducing a live-action version of Zeb unless he was going to feature heavily in a future series. With Ahsoka looking like it will wrap up the lingering plot points of Rebels, the timing of this cameo is just too suspicious to not imply a bigger story.
The Mandalorian is now streaming on Disney+.