Ahsoka Trailer Reveals a Greater Look at Star Wars' Most Terrifying New Villain
Thrawn is back... in live-action form.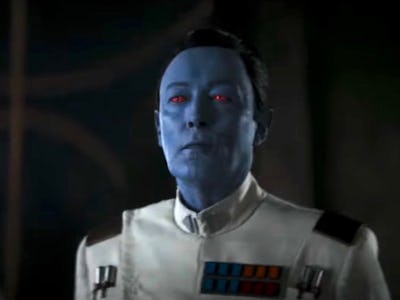 Lucasfilm
Thanks to Star Wars' new TV shows, fans can get excited about characters once confined to the animated world making their live-action debut. After the animated series The Clone Wars and Rebels inserted reams of characters into the prequel era, we're now seeing them again much later in the franchise's timeline. Ahsoka, Zeb, and Bo-Katan Kryze all made waves in the Mandoverse, but in Ahsoka's upcoming spinoff we're set to see far more, including one of Star Wars' most iconic villains.
Ahsoka is only a little over a month away, yet we're just now getting the first trailer. Because so many of the characters in it are from Rebels, fans have long been anticipating what they'll look like in live-action. Now we finally know how two of the show's central figures will be brought to life: Ezra Bridger and Grand Admiral Thrawn. Check the trailer out for yourself:
There are several big reveals here, like the new character Baylon saying "We are no Jedi," and Ahsoka referring to training Sabine. But it's clear the trailer was meant to introduce Thrawn and Ezra, opposing forces that vanished at the end of Rebels. Granted, we only see Ezra as a hologram, but that creates suspense regarding how Ahsoka, Sabine, Hera, Chopper, and Huyang, the ancient saber-making droid, will find him.
With only six weeks left to wait until Episode 1 drops, it will be exciting to see just how the crew of the Ghost is reunited — and how they defeat Thrawn. The Republic is brand new at this point in the timeline, and that makes it vulnerable to threats; especially threats branded as the "Heir to the Empire."
Ahsoka premieres August 23, 2023 on Disney+.