Star Wars Is About to Give Fans Something They've Been Demanding Since 2018
Do you need to rewatch Rebels or not?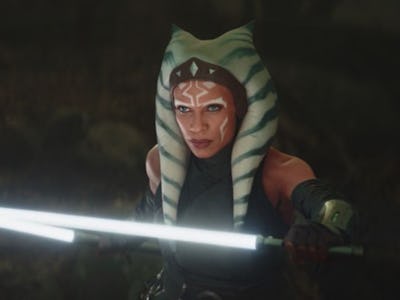 Lucasfilm
As the wait for Ahsoka, the next Star Wars live-action show, nears its end, fans are brushing up on old series. However, it's unclear just what an appropriate rewatch should involve. Because Ahsoka Tano appeared in every season of The Clone Wars and Rebels, a full refresher could become a days-long binge. To further confuse matters, there are several schools of thought about just what is necessary for Star Wars fans to rewatch, even among the people making the series.
Earlier this month, Empire Magazine ran a feature on Ahsoka that included a list of recommended episodes to rewatch before the series begins. Only five episodes were listed:
The Clone Wars Season 5 Episode 20, "The Wrong Jedi"
Rebels Season 2 Episode 22, "Twilight of the Apprentice Part II"
Rebels Season 4 Episode 13, "A World Between Worlds"
Rebels Season 4 Episodes 15 and 16, "Family Reunion — And Farewell"
That disappointed some fans, because if those are the only episodes needed for Ahsoka to make sense, then it's unlikely the live-action show will touch on Ahsoka's formative years, as shown in the first four seasons of The Clone Wars. The five recommended episodes only make up a tiny portion of Ahsoka's Star Wars history — and the history of some other characters that jump to live action and join her series.
However, Dave Filoni — the showrunner of Ahsoka and the mastermind behind the character — apparently told star Rosario Dawson that Rebels is far more important than that initial syllabus implied. Dawson told Total Film that Filoni said the series is essentially Season 5 of Rebels.
So if Ahsoka is simultaneously only referencing five earlier episodes and providing a sequel to a show that ran for four seasons, then just what is required of fans? The answer is likely up to you. Ahsoka takes place in the live-action Mando-verse, and most fans haven't seen the vast amount of animated content. It's unrealistic to expect them to catch up by binging multiple shows. However, Ahsoka will probably reward fans who have done their homework, whether thematically or with Easter eggs.
After all, The Mandalorian rewarded fans of other Star Wars media with the introduction of Ahsoka and Cobb Vanth, but also made their characters easy to understand for those meeting them for the first time. So do you need to watch all of Rebels before Ahsoka? The answer is looking like "No, but it would sure help."
Ahsoka premieres August 15, 2023 on Disney+.