Ahsoka Episode 3 Release Time, Trailer, and Plot Details
The newest chapter of Ahsoka's spotlight series is continuing Disney+'s biggest release gamble yet.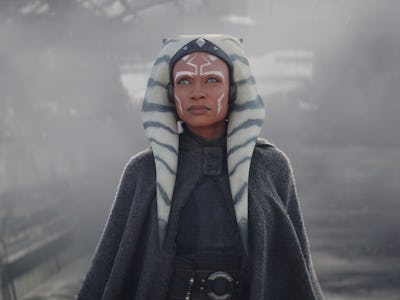 Lucasfilm
Star Wars fans everywhere are getting used to a new schedule with Ahsoka. The series is bucking many trends — it's the first live-action Star Wars show centered around a female character, the live-action debuts of multiple characters from Star Wars: Rebels including Grand Admiral Thrawn himself, and the first Disney+ original to garner an untraditional release schedule.
After a two-episode premiere, it's finally time to see if this grand experiment will be able to last and become the new normal.
What Day Does Ahsoka Episode 3 Release?
Despite being advertised as releasing on Wednesdays like every other Star Wars and Marvel Disney+ original since Loki Season 1, the Ahsoka premiere was moved up six hours, from midnight PST on Wednesday to 6 p.m. PST on Tuesday. All episodes of Ahsoka following it will be released at the same time.
Therefore, the release date of Ahsoka Episode 3 will be Tuesday, August 29.
What Time Will Ahsoka Episode 3 Release?
Star Wars TV so far has warranted a late night for American fans, but with Ahsoka's shiny new release time, we now can watch the new series at the time TV was meant to be watched: prime time.
Ahsoka Episode 3 will premiere at 6 p.m. PST, which is 9 p.m. EST — the perfect time to settle down with a show after work, but before bed.
Is There a Trailer for Ahsoka Episode 3?
It appears that Ahsoka will not have individual trailers for episodes, so there's no specific trailer for Episode 3. However, there is a recent teaser that gives us a sneak peek of Anakin Skywalker's appearance in Ahsoka — though there's no guarantee he'll be showing up first in Episode 3.
What Will Happen in Ahsoka Episode 3?
Last we saw Ahsoka and her crew, she made amends with Sabine Wren and together the two are on the hunt for Ezra Bridger. Meanwhile, Magistrate Morgan Elsbeth and her minions are building something impressive in the orbit of Seatos — a giant hyperspace docking ring known as the Eye of Sion. Episode 3 may just show this ship in action, and with it, the return of Grand Admiral Thrawn.
How Many Episodes Will Ahsoka Have?
Ahsoka will have eight episodes, meaning Star Wars fans will have a new episode to look forward to every week until Tuesday, October 3. We're now at Episode 3, meaning there are five episodes left in the series.
Ahsoka Episode premieres Tuesday, August 29 at 6 p.m. PST / 9 p.m. EST.