10 Years Ago, Marvel Learned an Important Lesson — And Promptly Forgot It
In 2013, a 15-minute short finally put the spotlight on a side character and proved women could carry their own MCU title.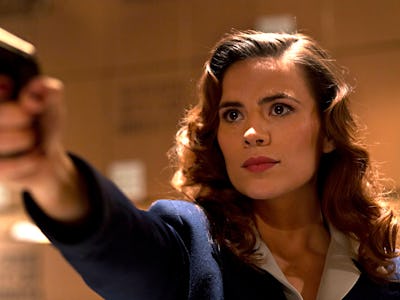 Marvel Studios
The MCU in 2023 looks very different than it did in 2013. In 2023, we're gearing up for a massive team-up movie following three female heroes joining forces across the galaxy. In 2013, the MCU consisted of a number of huge blockbusters like The Avengers and Iron Man and yet only one female hero — Black Widow, who was unceremoniously introduced in The Avengers and wouldn't get her own movie for more than half a decade.
But in a single 15-minute short, the MCU's most underutilized female character finally got her moment and it would only lead to bigger and better things in the future.
Marvel's One-Shots were not only a way to get fans who saw movies in the theaters to buy the home releases: they were also a great way to fill in narrative blanks and flesh out characters who got overshadowed by superheroic protagonists.
Agent Carter was the fourth of these one-shots. Released alongside Iron Man 3, the story flashes back to the years after the events of Captain America: The First Avenger. Peggy Carter (Hayley Atwell, reprising her role), now known as the love interest of the disappeared Captain America, is given a cushy desk job at the Strategic Scientific Reserve but craves to be in the field.
When she takes on a mission without authorization, she ruffles the feathers of Agent Flynn (Bradley Whitford). But the efforts don't go unnoticed by Howard Stark (Dominic Cooper), who invites her to join him on a special mission: founding S.H.I.E.L.D.
This short was only a glimpse into Peggy's life, but it was just the tip of the iceberg. Even when it was released, the possibility of a full-blown TV show was teased, and Agent Carter the ABC series ran for two seasons. But that still wasn't the end of Peggy Carter in the MCU, as she also appeared in Avengers: Endgame, What If...?, and Doctor Strange in the Multiverse of Madness.
All of these appearances began with this one shot, which proved that Peggy is more than just protagonist material: she has what it takes to go down in history as an MCU legend, and Hayley Atwell is well aware of that.
"I loved doing it," Atwell told Inverse of Agent Carter the series. "I can't tell you the number of people who have said that to me and get loads of messages on social media about it. People are like, when's she coming back? We miss her. We want her. Why did it get canceled? And it's so great to hear because you never know until it's out."
This one-shot may only be a quarter of an hour long, but its effect on the MCU cannot be overstated. Finally, after years, there was finally an MCU project led by a woman. It would take four more years for Marvel to learn from this short and give a female superhero a solo movie with Captain Marvel, and two more years for Black Widow to carry her own film, but after Agent Carter, there was no looking back.
Marvel One Shots: Agent Carter is now streaming on Disney+.