Hayley Atwell Chooses to Accept Her Mission
The Dead Reckoning star talks being handcuffed to Tom Cruise, her on-set nickname, and how much she still misses Peggy Carter.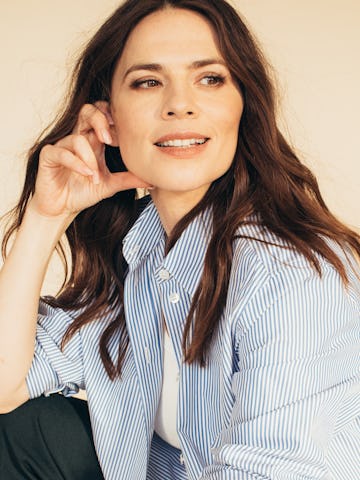 Photo by Catie Laffoon
Hayley Atwell has punched World War II soldiers, infiltrated Nazi camps, and fought off superspies. Hell, she's shot a gun at Captain America. But nothing could prepare her for her hardest stunt in Mission: Impossible – Dead Reckoning.
A runaway train tumbles off the edge of a ravine, forcing Tom Cruise's Ethan Hunt and Atwell's unwilling IMF accomplice Grace to scramble up each train carriage before it falls. They make it to the last train car hanging precariously at the edge. Atwell's Grace is perched on one of the dividers between the tables of the dining car. Below her: the ravine, filled with jagged rocks and certain death. Above her: a grand piano, attached to the floor by a strap and a metal hook — a hook that is slowly coming apart.
It's the kind of tension you can cut with a knife. And the apprehension on set for Atwell to pull off this stunt — in which Grace would leap across the train to be caught by Ethan — was palpable too.
"I was more nervous than I thought I would be," Atwell tells Inverse. "Because I thought I've had such good training, and I'm not scared of heights usually."
"The nickname they had for me was Hell Yeah."
Like many new inductees into the Mission: Impossible franchise, Atwell received five months of training in a variety of skills: unarmed combat, martial arts, knifework, shooting, and race car drifting. But the one skill that had to be learned on the job was the fearlessness that only star Tom Cruise has conquered. Atwell says she had to just go for it.
"The nickname they had for me was Hell Yeah," she adds. "'Here she comes, Hell Yeah Atwell.' Because I would just be like, where do you want me? What do you want me to do? How far should I jump?"
For the train-car sequence, Atwell had to jump multiple times across various distances. She and Cruise were hooked up with safety harnesses, and each carriage was filmed separately on a giant moving gimbal, the kind that you saw used in films like Inception. The gimbals were placed high so that Atwell and Cruise really were making these jumps at great heights. Often, they only had six seconds to run from one end of the carriage to the other, before the carriage went completely vertical. Their safety was assured, Atwell says, but even so, the adrenaline to not fall was something fierce.
"I knew that if I didn't make it, you'd have to reset the whole thing," Atwell says. "I think why [audiences] are on the edge of their seats because they can feel that very visceral reaction of actors actually doing it. You can't fake that kind of adrenaline."
But Atwell and Cruise never fell. "We hit the mark each time," Atwell says proudly.
Scrambling through train cars and drifting a Fiat 500 through the streets of Rome is a long way from the theatre, where Atwell got her start in plays like Prometheus Bound and Women Beware Women. Since making her stage debut in 2005, Atwell has maintained a presence in the theater, even as she took on roles in starry period dramas like The Duchess, acclaimed episodes of Black Mirror (the startlingly prescient Season 2 episode "Be Right Back"), and, of course, the Marvel Cinematic Universe as fan-favorite character Peggy Carter. Her balancing act between the stage and the screen paid off, because it was the theatre that got Atwell her start in Mission: Impossible.
It was the fateful day that Chris McQuarrie, the director of Dead Reckoning and the past two Mission: Impossible movies, first saw Atwell in a play called The Pride in London, 10 years ago. "He said there was a moment in the play where he went, 'I want to work with her,'" Atwell recalls.
McQuarrie took Atwell out for dinner afterward to discuss potential projects. He didn't have a character or story in mind for Atwell yet, but after a few rounds of auditions with Cruise for a couple other projects that never came to fruition, Dead Reckoning came along.
"I love this idea … that they were looking for the actor they wanted to work with and then that we would collaborate and create that character together," Atwell says.
Atwell's Dead Reckoning audition was just as off-the-cuff. It started with a physical test with stunt coordinator Wade Eastwood, who gave her a series of fighting drills that McQuarrie and Cruise observed. But the screen test with Cruise was a little different. Atwell received eight pages of dialogue that ended up being thrown out so that she and Cruise could simply play off each other. It reminded her, in a lot of ways, of the theatre. "It was that same sort of mentality, where you throw lots of different ideas out," Atwell says. "I remember thinking, 'This is truly a masterclass.'"
So what was the final result of the creative collaboration between Atwell, Cruise, and McQuarrie? It's Grace, one of Ethan Hunt's most unique allies in that she's not a spy — she's a thief. While she's an internationally renowned crook, Grace is still way out of her element when it comes to the IMF's particularly high-stakes missions, which makes for some of the most entertaining sequences of Dead Reckoning. It also made Grace an especially appealing character for Atwell.
"It was really important that I didn't have her stuck in one thing, that she wasn't just the femme fatale, the ice queen, the badass."
"It was really important that I didn't have her stuck in one thing, that she wasn't just the femme fatale, the ice queen, the badass," Atwell says. "She reflected the fact that we as human beings are lots of different things in different times of our lives, so that we could create a sense of someone that felt a bit more plausible and grounded."
Grace makes for a refreshing contrast to the rest of the hardened spies in Mission: Impossible, a franchise famous for Cruise's wild, death-defying stunts. It's a contrast that is best represented in the film's central car chase sequence, in which Grace and Ethan are pursued by U.S. government operatives, Pom Klementieff's psychotic henchwoman, and local Italian authorities who are very upset over the citywide destruction being wrought by all this. Grace and Ethan are handcuffed together, forcing Grace into the driver's seat — where she soon realizes she's in over her head. She stops the car and forces Ethan to drive lefthanded while their cuffed hands are crossed over the gear shift. The entire sequence — in which Cruise drives backwards, drifts through cobblestone streets, and veers sharply through narrow alleyways — feels, frankly, impossible to do while handcuffed to another person.
"They're real handcuffs!" Atwell says. "It's real driving in Rome, it's real drifting. It is really crashing into other cars and Vespas."
Atwell and Cruise had to work out the practicalities of being handcuffed together, so that they could maneuver the cars and gracefully move around without running into each other. It took a lot of precisely orchestrated rehearsal and trust, Atwell says.
"Also a lot of physical and spatial awareness and just being very present and alert to each other, particularly when the stakes are so high," she adds.
Cruise was not only the consummate scene partner, he also let Atwell take the wheel, figuratively and literally. When Grace and Ethan are forced to abandon the battered BMW for another car, their replacement is, hilariously, a bright yellow Fiat 500. The movie suddenly takes on the tone of lighthearted caper, which Atwell says was inspired by '70s heist movies like What's Up, Doc? and The Italian Job. In the funniest moment of the sequence, the car is sent rolling down Rome's Spanish Steps, which ends in Grace somehow switching back to the driver's seat. She panics and sends the car spinning through the square while Ethan tries to direct her — a moment that plays like a gag, but actually required Atwell to do some real drifting on her own.
"I had three cameras in front of me on the windscreen and we were doing donuts, spinning the car around in a circle," Atwell recalls. "And he put his life in my hands in that moment. McQ took me out for lunch and said, 'I've never seen him do that.'"
It gave Atwell a boost of confidence and propelled her to "try even more." But now that she's proven her action chops, does Atwell see Grace taking an even more prominent role in Dead Reckoning Part Two?
"It's about what the audience wants," Atwell answers vaguely, when I ask if the film's ending hinted at a sort of passing of the mantle to Grace (though it's clear that Cruise doesn't intend to part ways with the Mission: Impossible franchise for a long time). "There is a blueprint and an arc, but there's still so much up for grabs."
"He put his life in my hands in that moment. McQ took me out for lunch and said, 'I've never seen him do that.'"
Speaking of what the audience wants: Atwell is also champing at the bit for more Peggy Carter. She first played the role in 2011's Captain America: The First Avenger, and she's reprised it numerous times since, most recently in 2022's Doctor Strange in the Multiverse of Madness, and previously in animated show form, and in the short-lived ABC series Agent Carter, a show that she was excited to hear I was one of the rare fans of.
"I loved doing it," Atwell says. "I can't tell you the number of people who have said that to me and get loads of messages on social media about it. People are like, when's she coming back? We miss her. We want her. Why did it get canceled? And it's so great to hear because you never know until it's out."
While we both bemoan the fact that the dream of an Agent Carter Season 3 is long-dead (it would've been cool to see her "front and center" with "greater opportunities to go further in her own work," Atwell muses of her ideal Season 3), Atwell is not opposed to putting on Peggy's signature red hat again — or even taking up the Captain Carter shield.
"If they did well by her, if they gave her more, if it felt progressive … rather than someone reacting to a romantic loss," Atwell says she would immediately say yes if Marvel ever approached her about reprising the role again. "It would have to hugely be updated as to what audiences are wanting now. So yeah, I would of course be open to it if they ever came calling."
But it seems that for now, Mission: Impossible is the only major franchise in her future. As we wrap up our chat, I joke that Atwell could also make a return to another beloved franchise that she's made a brief appearance in (albeit, in audio drama form): Doctor Who.
She laughs at that. "One thing at a time!"
This interview was conducted prior to the SAG-AFTRA strike.
Mission: Impossible – Dead Reckoning Part One is playing in theaters now. Part Two is scheduled to be released June 28, 2024.