'Aquaman 2' and 'The Flash' release dates are actually happening — eventually
The DCEU movies are expected to begin shooting in 2021.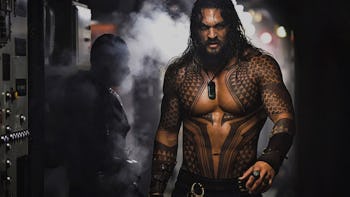 Warner Bros. Pictures
The Flash is the fastest man alive, but his movie is taking a leisure stroll to get here. In a new report, DC is producing a sequel to 2018's billion-dollar hit Aquaman, and The Flash still starring Ezra Miller. But neither film — nor a secret Green Lantern movie — will arrive on screens until well after 2021, which is when these DC Extended Universe movies are expected to begin production.
A new report from Variety reveals DC Films is feeling reinvigorated by 2018's Aquaman and this year's Joker, two films to cross a billion dollars worldwide. At the moment, several movies are in varying stages of pre-production, and that's not including DC's already set lineup for 2020, Birds of Prey and Wonder Woman 1984, and 2021, when The Batman and The Suicide Squad hit theaters.
Current DC movies in the works are Aquaman 2 (title TBD), The Flash, and Green Lantern Corps. A new Superman movie is also in the early stages, potentially with Michael B. Jordan in the starring role, replacing Henry Cavill. However, the Man of Steel "is unlikely to hit screens before 2023," Variety reports.
So for now: Aquaman 2, The Flash, and Green Lantern Corps represent the next "phase" of the DCEU (to borrow a term from Marvel Studios). The next film starring Jason Momoa's king of the seas will begin shooting in 2021, with a theatrical release scheduled for December 16, 2022. A spin-off, titled The Trench, is also in the early stages. That movie is expected to explore the vicious sea monsters seen in one of Aquaman's more memorable action scenes.
The Flash, which has seen a series of directors come and go, not to mention Ezra Miller himself writing a draft of the film with comic book legend Grant Morrison, is finally in place with director Andy Muschietti (It) and screenwriter Christina Hodson (Bumblebee). Like Aquaman 2, the film isn't expected to begin shooting until 2021, after Miller finishes shooting the third Fantastic Beasts.
Finally, Green Lantern. Although the brand was tarnished by 2011's Green Lantern with Ryan Reynolds, Warner Bros. and DC are willing to try again with Green Lantern Corps, a movie previously described as "Lethal Weapon in space." Variety reports Geoff Johns, famed DC writer turned producer, "is delivering a script at the end of the year." Johns is also at work at a Green Lantern TV show for HBO Max with Arrowverse producer Greg Berlanti. Unlike Aquaman 2 and The Flash, the Green Lantern movie is not expected to begin shooting in 2021.
After DC Films' big bets, 2017's Justice League and 2016's Batman v Superman: Dawn of Justice, ended up divisive thuds that left audiences and critics cold, there is a visible reorientation from the studio.
As the movies eschew ensemble crossovers, DC Films' output from here on is expected to look more like character-driven, standalone movies with a darker tone with a more diverse visual color palette (as in the case of Birds of Prey). Where Marvel rakes in billions with a global audience of all ages, Warner/DC will lean towards that R-rating for its comic book properties, or at the very least push the boundaries of PG-13.
But with Wonder Woman 1984 coming next year, followed by Aquaman 2 and a Flash solo film, it almost feels like the dormant DCEU might be winding up again. Could Warner be setting the stage for Justice League 2? It seems unlikely, but as long as these superheroes keep making money at the box office, we wouldn't rule it out yet.
Birds of Prey (and the Fantabulous Emancipation of One Harley Quinn), the next movie from DC Films, will release in theaters on February 7, 2020.