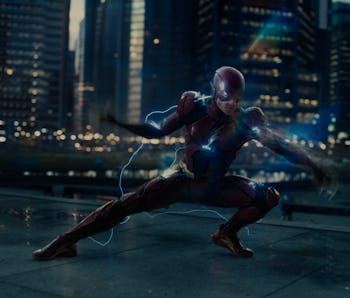 Entertainment
'Flash' Movie Gets a Name Change. What Does This Mean for the DCEU?
Warner Bros.
In the aftermath of Justice League, Ezra Miller's Flash is poised to have an extremely pivotal role in the DC cinematic universe. But his upcoming solo film, previously confirmed to be titled Flashpoint, may no longer be Flashpoint. However, it will seemingly still be based on the the 2011 comic book storyline it was originally named after.
On Tuesday, shortly after reports surfaced that Ernest Cline's second novel Armada is being adapted into a feature film, The Hollywood Reporter confirmed that the film's writer is Dan Mazeau, whose previous works include Wrath of the Titans from 2012. THR also noted that Mazeau was involved with the Flash movie "when it was titled Flashpoint."
A little later, THR writer Borys Kit tweeted: I didn't say they weren't adapting Flashpoint. All I said was that it wouldn't be titled Flashpoint."
"But maybe I've said too much," he added, with a winking emoji.
Since Comic-Con 2017, Warner Bros. revealed that the Flash's solo film was going to be titled Flashpoint. Based on the origins of that title, fans foresee a great change to the "DCEU" as they know it.
Back in 2011, DC Comics hit the reset button on its continuity after the Geoff Johns storyline Flashpoint, where Barry Allen, aka the Flash, changed the timeline by going back in time to prevent his mother's murder. While the changes to Barry's life were big, the ripple effects to the DC Universe were seismic: Thomas Wayne was Batman instead of Bruce, Atlantis and Themyscira were in all-out war, and Kal-El never grew up to become Superman. In the Flashpoint timeline, Cyborg stood as the greatest superhero in the world.
Based on Kit's tweet, the impact of the formerly titled Flashpoint film will be similar to how it affected the comics (many, but not all, of the changes in Flashpoint remain intact seven years later). It just won't be Flashpoint. Who wants to bet the title could be evocative of DC's Rebirth, the latest continuity reboot.
The movie formerly titled Flashpoint will be released in theaters in 2020.