DC's 'Flashpoint' Movie Could Have One of These 7 Directors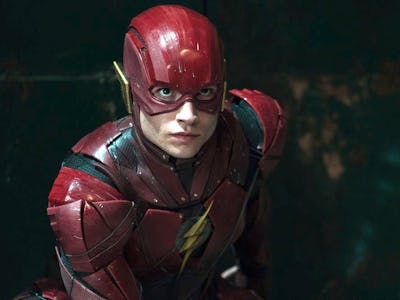 Warner Bros.
Barry Allen may be the fastest man alive, but Warner Bros. is fast-tracking his possible solo film, Flashpoint after the buzz from Justice League indicates Ezra Miller is the breakout star. In a series of tweets from Wall Street Journal writer Ben Fritz, which accompany a longer feature on the future of the DC movie franchise, Fritz tweeted that Warner Bros. is close to nailing a director for Flashpoint, a movie predominantly starring The Flash but suggests a wider impact on the entire DC Universe.
In the comic book Flashpoint published in 2011, The Flash finds himself in an alternate timeline he doesn't recognize. Superman never arrived on Earth, Wonder Woman and Aquaman are leading armies against each other, and Cyborg is the number one superhero on the planet. Most importantly, Bruce Wayne isn't Batman, but his father, Thomas Wayne.
The major event series, published in the spring and summer of 2011, helped lay the red carpet for the "New 52," which wiped the DC slate clean to allow new and lapsed readers to get caught up on the comics.
Until there is an official word regarding who can helm what may be the most important movie in the DC slate, below is a list of seven talents directs who, from a fundamental creative level, are extremely suited to approach the impenetrable material that is DC's Flashpoint.
1. Ava DuVernay
A celebrated director who has been decorated for films like Selma and 13th, DuVernay is now onto sci-fi blockbusters with an adaptation of Madeleine L'Engle's 1962 fantasy novel A Wrinkle in Time, which will be released by Disney in March 2018. Though A Wrinkle in Time isn't ultra-complicated like Flashpoint, it is difficult material, but DuVernay is a master storyteller who could offer an extremely fresh take on the DC Universe.
2. Jordan Peele
The career trajectory of the best superhero directors tends to mirror where Jordan Peele is now. And unlike most superhero directors, Peele is a comedic juggernaut, who could nail the tone of Barry Allen better than most ever could. After the success of Get Out, Peele now has his pick of the lot and has even circled other major sci-fi projects, such as the long-in-development Akira for Warner Bros.
3. Edgar Wright
This is purely a selfish fanboy way of thinking, but after Ant-Man, it's extremely disappointing Edgar Wright hasn't tried a massive superhero production just yet. Though the director of Baby Driver will always be at his best without anyone telling him what to do, it just seems proper that, at least once, the most exciting visual director should have one contribution to the most popular film genre of the last 20 years.
4. Lexi Alexander
At the moment, Lexi Alexander is hard at work on the Chris Benoit biopic, so she would probably be unable to do Flashpoint if it was even offered to her. But Alexander is no stranger to superheroes, having directed Punisher: War Zone in 2008 and an episode of Supergirl. On Twitter, Alexander has humbly described herself as anything but a big-time director, but perhaps Flashpoint can change that. (Fun fact: Alexander played Kitana in a live stage tour of Mortal Kombat, a franchise with close ties to the DC Universe.)
5. Joseph Kahn
The director of Torque, that viral Power Rangers fan film, and a bunch of Taylor Swift's music videos has repeatedly mentioned disinterest in doing a big superhero movie. But Joseph Kahn has pitched for DC's Justice League Dark and wields an eccentric sensibility that would perfectly suit The Flash's brand of humor. Although Kahn has never done a massive superhero production before, it's not not fun to imagine what a director like Kahn could do behind the wheel to DC's franchise equivalent of a Ferrari.
6. Cary Fukunaga
A frequent talent under Warner Bros., Cary Fukunaga's films often skew older than the mainstream superhero audience, and with heavier material such as HBO's True Detective and the 2015 war drama Beasts of No Nation. This month, Fukunaga is expected to wrap up work on the Netflix series Maniac, which in theory frees up Fukunaga to do a Flash movie. It's the unexpected juxtaposition of tone and talent that makes Fukunaga a compelling choice.
7. Kevin Smith
I just think it's weird that Kevin Smith hasn't done a superhero movie yet. Also, his The Flash episodes are usually the best of the season. Give the guy a DC movie, because you can trust no one knows it better than he will.