The 11 Creepiest Horror on Netflix This October
It's all about teenage scares, demons, and dark fantasy.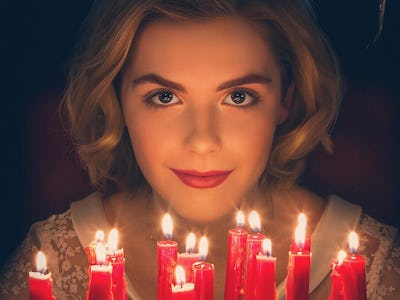 Netflix
What's a devil-worshipping teenager supposed to do when it gets cold outside? For many of us with creepy proclivities October 1 simply marks the slow, delicious slide toward Halloween.
These are all the newly available horror series and films available on Netflix this October, from reboots of old favorites to dark British gems that haven't wrapped their creeping tendrils around American throats yet. Prepare to sleep with the lights on all month.
See Also: Devils, Demons, and Vampires Reign Over 2018 Fall TV
Chilling Adventures of Sabrina
Ooh, isn't she wicked? If you're a fan of The CW's Riverdale but you wish the show involved a bit more demon worship, Chilling Adventures of Sabrina will likely be the show for you. Based on the electrifying comic book series written by Roberto Aguirre-Sacasa, with art by Robert Hack, Chilling Adventures will follow the teen witch once played by Melissa Joan-Hart.
That goofy version of Sabrina the Teenage Witch aired on ABC and The WB from 1996 to 2003, and it's a far cry from 2018's version, in which Sabrina (Mad Men's Kiernan Shipka) is being groomed as a young sorceress in a town full of unspeakable horrors. She also has heaps more chemistry with her version of Harvey, played this time around by Ross Lynch, the Disney star who shocked the world in 2017 playing a believable Jeffrey Dahmer. Roberto Aguirre-Sacasa, who wrote the comics and is a producer on the Netflix series, has compared it to "slow burn horror" like Rosemary's Baby and The Exorcist.
Apostle
You may know director Gareth Evans from his martial arts movies The Raid and The Raid 2—if you're a fan of his slick, shadowy point of view, it'll come as no surprise that he's dipping his toe into the horror pool. After a moderately successful crack at the genre in V/H/S/2, Evans signed on to direct Apostle, which Netflix purchased in 2017 and premiered at Fantastic Fest in September 2018.
Dan Stevens (Legion) stars as Thomas Richardson, the black sheep son of a rich British family who travels to an island to rescue his sister. When all hell breaks loose, we're reminded of the visuals Evans loves most: bloody, dynamic, and pushing the boundaries of what a human body is capable of.
Castlevania Season 2
No one knew what to expect when Netflix announced an Western-produced anime series based on the Konami game Castlevania III: Dracula's Curse, but Season 1 of Warren Ellis' batty series blew critics and viewers away. The bloody, stylized gothic fantasy has a one-man hype machine in executive producer Adi Shankar, who told Inverse in 2017, "Season 2 is awesome. It's just frickin' awesome."
Castlevania, like blood I assume, is a bit of an acquired taste. If you're already on board with the franchise, the new season is bound to satisfy your bloodlust. If you haven't yet watched this version of Dracula, you may want to blast through Season 1 before the new episodes are available on Netflix. The series premieres October 26.
Creeped Out
If you've ever asked yourself why no one wants to reboot Nickelodeon's Are You Afraid of the Dark?, you may want to give Netflix's creepy series for kids a shot. This British-Canadian limited series from creators Bede Blake and Robert Butler follows the anthology format popularized by American Horror Story, though its tone feels a bit more like The Twilight Zone mixed with Steven Spielberg's Amazing Stories.
British viewers have already seen the show, which premiered Halloween 2017 on CBBC to rave reviews. Whether you're watching with the kids you're babysitting or snuggling up by yourself in the dark, this one is bound to excite fans of the quicker, witter episodes of Black Mirror.
Haunted
This Netflix original series combines docu-drama with dramatic recreations, much like the ghost-hunting shows on the History channel or TLC, but this time it's padded with Netflix's exorbitant budget. Few critics have been able to watch screeners, so it's unclear whether the series is any good, but it premieres October 19.
Malevolent
This film's synopsis reads, ""Brother and sister team Angela (Florence Pugh) and Jackson (Ben Lloyd-Hughes) are nothing more than scam artists. Preying on the grief-stricken and the vulnerable, they convince the bereaved that Angela has the ability to contact the dead. It's a simple con until Mrs. Green (Celia Imrie) summons the pair to her home — the orphanage that once was the stage to a string of murders of young girls — and Angela grows less and less certain of what's actually real."
This 2017 film was Icelandic director Olaf de Fleur Johannesson's first big shot at the mainstream, and his script comes from Ben Ketai, who has specialized so far in writing horror sequels like 30 Days of Night: Dark Days and The Strangers: Prey at Night. The film premieres on Netflix October 5.
The Curious Creations of Christine McConnell
Sometimes a Netflix project comes along that feels distinctly like an audience development algorithm created it. In this case, Christine McConnell hosts a spooky cooking and homemaking show which specializes in horror-themed baking projects. It sort of feels like Morticia Addams has opened her kitchen to you.
As everyone knows, Netflix is the premier spot on American television for binge-watching shows like The Great British Bake-off and Nailed It!, all programming made to calm people down and make them hungry. This just adds another beloved aspect of Netflix's programming: holiday-appropriate fare and family-friendly Halloween content. This whimsical, spooky series premieres October 12.
The Haunting of Hill House
This series from Gerald's Game writer and director Mike Flanagan is already a critical darling, though its ten episodes don't premiere on Netflix until October 12. Based on the 1959 novel by Shirley Jackson, this Haunting of Hill House adaptation is the first to explore victims' trauma after paranormal experiences. Its slow, creepy crawl to a crescendo has been called "an effective scare-fest."
The Shining
The Shining is two important things at once: it's the greatest horror film ever made and Stephen King's least favorite adaptation of one of his novels. If you somehow haven't seen this groundbreaking game-changer from Stanley Kubrick, watch it immediately and decide for yourself whether you agree with King or legions of cinephiles who have adored it for decades. This all-time horror classic returns to Netflix October 1.
Truth or Dare
Blumhouse specializes in low-budget, simple-concept horror films, and 2017's Truth or Dare is no exception. Starring Lucy Hale (Pretty Little Liars), this pulpy teen thriller follows a group of college students after they unearth a demonic curse on vacation. Come for the silly premise and stay for the bizarrely effective CGI face-morphing. This goofy, better-than-it-needs-to-be film premieres on Netflix October 3.
The Haunting of Molly Hartley
Honestly, skip this one unless you're truly desperate. This 2008 clunker starring Haley Bennett (The Magnificent Seven) made a respectable amount of money when it premiered, but critics and audiences alike were underwhelmed. The film premieres on Netflix October 4.