2017's Darkest Serial Killer Movie Follows Teen Jeffrey Dahmer
"My god, Dahmer. What have you done?"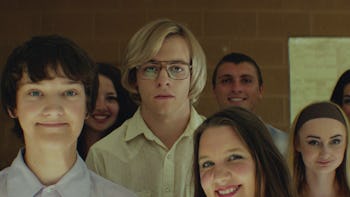 The 2017 Tribeca Film Festival introduced the world to a very different version of infamous serial killer Jeffrey Dahmer. My Friend Dahmer, based on the graphic novel of the same name by John "Derf" Backderf, follows the story of a young Dahmer, tracking him through the halls of his high school, his troubled home life, and his first fantasies of assault and sexual violence.
"It's not what [people might] think it is," writer and director Marc Meyers told Inverse of My Friend Dahmer, a movie he insists is "the story before the story" of "Jeffrey Dahmer the monster."
Following the storyline of Derf's graphic novel, My Friend Dahmer is the true story of Derf's experiences of Dahmer — his early obsession with bones, his alcoholism, and his "class clown" label in high school, in part due to Derf's influence.
Meyers spoke with Inverse about how he managed to shoot scenes at the real Dahmer family house in Bath, Ohio, his love of Derf's work, and having to remind his actors that they were playing awkward virgins.
Why Dahmer?
I had originally had this idea for a concept for a film that would have been about a young boy, and I thought I'd create some fictional tale. Then I discovered the book. It was an advance-review copy, which had been given to me at Comic Con New York. And so from there, we quickly moved to option the material, and I started developing the script and then expanding upon the book with more research by having a lot of conversations with the author, visiting the area the author and Jeff both grew up. And the book is honestly such an incredible source material that it was all about turning that book into a movie.
Did you work closely with Derf on this project?
No, as Derf says, his business is writing books and being a graphic novelist and cartoonist. So I'm grateful that he entrusted me with the material, and that he had finished the book. He'd already turned down other people who were interested in the material, but he hadn't finished it yet; it wasn't in its current, full form.
So, the timing was right. But besides spending a couple days with him in Cleveland, and him showing me around where they grew up, and me recording those conversations and using that deeper detail from the book … I might have shared the script with him once or twice before we started filming. We had conversations here and there, but a lot of it was to keep him updated [on the filming].
How did you manage to guide your younger actors into the '70s and guide them through these very real roles?
I'm so grateful to the production designer Jen Klide and the costume designer Carla Shivener, and [the actors] understood the '70s just by the world that we were presenting in front of them. And then for me to constantly remind them that these characters were not as cool as they are, as young actors. And so once in a while, I might poke my head into a scene and go, "Just a reminder, guys: you guys are all just virgins. Just reminding you that they're nerds." And then it's like, "Right, right, we can't be so cool." There were a bunch of scenes that we filmed on day one that are still in the movie because the moment they arrived on set, they were just ready to step into these characters. I don't really rehearse that much in advance. One afternoon we were all gathered in Ohio and just read through some scenes lightly and just chatted about the movie, personally, between the five of us. And then we're off to the races.
You filmed in the real Dahmer house. How did that come about?
I visited Derf in October 2012, and stayed with him. He took me to the house. He hadn't been there that much as a kid. So for him, he was going back to the house for the first time in a while, too, and we walked around because he asked permission from the owner, who had a tenant living there at the time.
Then as we got closer to production, in the year ahead of filming, I asked Derf, "Could you introduce me to the owner?" He happened to be in the New York area still, at the time, and we met and had lunch and chatted, and I stayed in touch with him, and then he had since moved home to take over the house that he owned. So I stayed in touch with him and made the arrangements with him directly for the production to come through.
How did you arrive at the added scenes in the film that aren't in Derf's book?
I just believed in the story so much that I had a lot of fun with where my adaptation — for the purpose of cinema and the dramatization — had room to explore things that weren't in the book. I was digging a little bit deeper into the home life experience that the book didn't explore as much. I had a little bit more freedom to develop that sort of nurture versus nature conversation that was part of the theme of the movie.
It wasn't like I dug into other material. It was just that those were missing holes that I could infuse my own beliefs and creativity, and feel out aspects of those characters — what was going on behind the doors of that house. So there was some top-line ideas that the book suggests about [Dahmer's parents'] marriage falling apart while he's in high school, and the fact that Joyce was likely pill-popping, and her mood swings and things like that. And that just gave me enough room to find a range of situations that I think could allow for … it really just came from me. It was just all about the book.
My Friend Dahmer premiered at the 2017 Tribeca Film Festival and will hit theaters this fall.