'The Last Jedi' Porg Update: Rey "Too Wrapped Up In Her Journey" to Care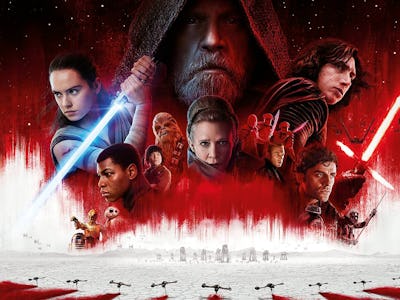 Lucasfilm
The latest menace to strike the Star Wars universe is a race of cute little birds native to Ahch-To called porgs. Most people seem to love them, and actress Daisy Ridley is no different. But much like Chewbacca in The Last Jedi, her character Rey will not be a fan.
In a conversation with USA Today published Tuesday, Ridley admitted that she herself was a huge fan of the feathered freaks. She spoke fondly of an "adorable" and "hilarious" porg toy that she owns: "It's bringing a lot of pleasure right now."
Star Wars has long been adept at making creatures and droids cute, most recently with the robotic bowling ball BB-8. The same crew who handle the droid's movements also provide the puppetering for the porgs. Ridley commented, "It's wonderful to be working around practical things on set that have such personality."
That magnetic personality, however, will be the least of Rey's concerns, because she doesn't have the time to waste.
Daisy Ridley might love porgs, but as Rey becomes more and more the central character in this Star Wars trilogy, she "is too wrapped up in her own journey to pay attention to porgs." In The Last Jedi, Rey will undergo some kind of Force training under Luke Skywalker as she searches for her place in the conflict sweeping the galaxy.
The porgs may have stolen the show in one of the previous trailers, but in The Last Jedi, Rey's journey will become pretty central to the story.
Just about every character in The Last Jedi has rumors of them turning to the Dark side swirling, Rey included.
Maybe our budding not-Jedi should take some time to appreciate the finer things in life, like a delicious bowl of porg soup? Chewbacca would probably not mind splitting some of it, as he's rumored to be a porg-eater.
Star Wars: The Last Jedi hits theaters December 15.
If you liked this article, check out this video about this insane Last Jedi theory that connects Snoke to Anakin Skywalker.