When Is 'Sense8' Season 3 Coming Out?
Looking for Season 3 of the Wachowskis' Netflix sci-fi show? Yeah, we are too.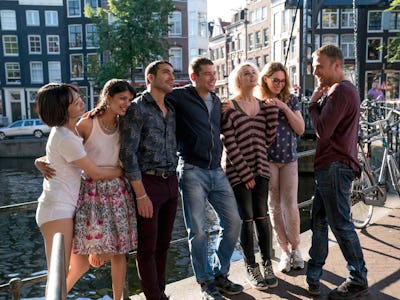 Netflix
The Cluster has had you hooked since June 2015, when Season 1 of the Wachowskis' sci-fi show Sense8 premiered on Netflix. Now that you've gotten through the second season, which dropped on May 5, 2017, you're probably wondering when you can expect Season 3. While there isn't official word from Netflix about a third season, the cliffhanger of Season 2 points pretty clearly to a third season. Here's what we can deduce from previous happenings.
Season 1 introduced the concept of a "cluster" of eight central characters — Wolfgang, Kala, Riley, Will, Capheus, Nomi, Lito, and Sun — who suddenly found their minds connected. The Cluster all lived wildly different lives in different countries around the world. Wolfgang was involved in Berlin's organized crime scene; Nomi was a transgender hacker; Lito was a closeted gay actor; Sun was wrongfully imprisoned in Korea. Through this connection, they used each other's skills to help improve their respective circumstances. By the end of Season 1, they also learned about the sinister and shadowy Biologic Preservation Organization (also known as BPO), which aimed to take out their kind.
Spoilers for Sense8 Season 2 are below.
Season 2 amped up the intrigue and the danger, as the season finale saw the sinister BPO operative Whispers kidnapping and torturing Wolfgang. The central cluster converged in London to rescue him. As they drove away from BPO with Whispers in the back of their van, the sensates vowed to stop running and go on the offensive. "You want a war? We'll give you a war," said former Chicago cop Will Gorski.
See also: 5 Burning Questions for Sense8 Season 3
By ending Season 2 on a dramatic cliffhanger with no resolution in sight, the Wachowskis almost certainly planned for a Season 3. Netflix has not yet officially announced a renewal, but after Season 1 came out on June 5, 2015, the Season 2 renewal was announced two months later, in August of 2015. If Season 3 follows the same pattern, expect a renewal announcement in July 2017.
Season 2 and the Christmas special were then officially given dates on December 3, 2016. The Christmas special premiered twenty days after this announcement, on December 23, while Season 2 premiered five months later on May 5, 2017. Expect at least a year before Sense8 returns for Season 3 — but a renewal announcement might be just around the corner.
You May Also Like: