Daniel Wu is Back to the Badlands to Break Boundaries
The star of AMC's 'Into the Badlands' spoke to 'Inverse' about the show he thinks is breaking ground.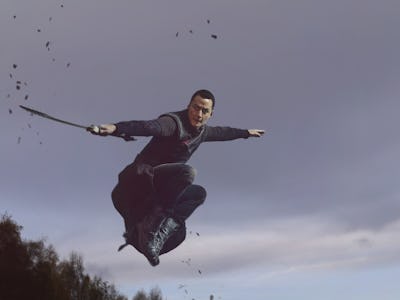 AMC
Daniel Wu, the face of AMC's sword-fighting soap opera Into the Badlands, understands the pressure on him as the producer and star of a high-octane TV show. It's a big deal that Wu, an Asian-American actor, is doing both of these jobs because TV doesn't often allow for those opportunities to people of color. But Wu's responsibilities of shooting ten episodes at eight days apiece keeps him from dwelling on that fact.
"I think what we're doing is breaking grounds and boundaries," Wu told Inverse in a phone interview. "I'm an Asian-American lead and my love interest is a black female, and we're having a 'blasian' baby this season. But I don't think it's conscious. We're just trying to make a cool show."
Making a "cool show" takes sweat and hustle. In Season 2 of Into the Badlands, premiering March 19, Wu returns as Sunny, a disgraced Clipper — basically, a samurai tinged by steampunk — who has been sold as a slave by the "River King." To survive and have any hope of seeing his wife Veil (Madeleine Mantock) again, Sunny teams up with a streetwise goof named Bajie (Nick Frost), and together they embark on the perilous journey back to the Badlands. It's not a particularly welcoming destination: The Badlands are a post-apocalyptic area where feudal lords called Barons are engaged in a deadly turf war.
Loaded with kung fu and lavish sets, the show provides many challenges from a production standpoint. Wu says it takes extreme discipline to prevent the production from falling into chaos. With just eight days to shoot an episode, there's no room to mess around. "We have two units going at the same time," he explains. "We have the fight unit and the drama unit. Each has like 150 people. It's like making two shows at one time." The actors, almost all of whom play skilled killers, often bounce between units. "Sometimes I even bounce back between them in one day," he says. "I'll be in a drama scene and I'll run off to fight, finish the fight, and head back and finish another drama scene. It's as efficient as you can possibly make it."
The packed schedule can wear anyone out, but Wu's training — he's studied wushu since he was 11 — prepped him for endurance. But the demands of the show also compelled Wu to try other forms of conditioning. "Last season I bulked up really big, just for the role," he says. And to fit Sunny's new place in the bottom rung, Wu reforged his body and dropped to a "more natural weight." "I wanted Sunny to look like he'd been through shit in that six months that we didn't see."
Wu's Sunny was once the fiercest killer in the Badlands. But as a slave, Sunny doesn't just look different, he fights differently too. "He's been enslaved for six months and anybody who's not training is not going to be able to fight at the level they were able to," he says. "So we tried to incorporate that. You see Sunny gain his footing as the season goes on, in terms of his strength and his abilities."
The kung fu genre may not be known for award-worthy storytelling, but its place on AMC — which has been called the "graphic novel network" — compels the show to focus on creating compelling drama, as well. "We wanted each fight to affect the character physically, mentally, or emotionally," says Wu. "In this season, the fights have a lot more emotion involved in it without being melodramatic."
To that end, Wu and co-executive producer Stephen Fung continued collaborating with Master Dee Dee, the choreographer of classics like Once Upon a Time in China II who designed the show's fights last season. Even with all this combined experienced, the fight unit is pushed to the limit daily. "On a film, you've got maybe five fights over four months. It's relatively comfortable," Wu says. He cites the 2013 epic The Grandmaster (a film that influenced Into the Badlands), the production of which afforded director Wong Kar-wai 30 days to shoot one fight scene. Into the Badlands gets a fraction of that time. "We maybe get four or five [days]. Sometimes we rebalance so we'll put six days on one fight and two on another. But the matter of balancing those days, we have to do two, maybe three fights in one episode."
It's not all serious business, though. With the arrival of Nick Frost, who has starred in laugh riots like Hot Fuzz, Season 2 will have a tone that recalls Jackie Chan movies. One early scene with Sunny and Bajie is most emblematic of this. "Jackie Chan is famous for integrating comedy into martial arts, so we tried to make that fight like a Jackie Chan fight," he said. By recalling the masters of the genre, Into the Badlands seeks to speak to its most dedicated fans. "We try to give 'Easter eggs' for real fans, people that watched martial arts movies their whole lives and go, 'I know what they're doing! They're making a reference to Jackie Chan!'"
Wu's personal favorite scene comes later when Sunny and Bajie meet a new character. "It's different than last season where he's defending himself. It's a philosophical, metaphorical fight." The character, Wu says, "is challenging him about his journey. Is your journey realistic? I'm going to challenge you physically to make you think about it mentally." Wu says the fight is "very reminiscent" of Hong Kong epics of the '70's and '80s, when martial arts films were as philosophical as they were dazzling.
All of Wu's head-spinning work shows his determination to putting Into the Badlands on the map. The show has an identity unlike the rest of TV's action drama offerings, but does an Asian lead playing a kung fu killer make the show stereotypical? The conversation of whitewashing around Ghost in the Shell and Marvel's Iron Fist puts Into the Badlands in a unique place, one that Wu has pondered.
"It's hard for me to say because I'm a martial artist and I'm Asian, so does that make me a stereotype?" he asks. "It makes you question: Does anyone Asian growing up in America who wants to learn martial arts, are they a stereotype or are they getting in touch with their culture?" For Wu, who was born in Berkley and raised eight miles east in Orinda, California, martial arts — and martial arts movies — allowed him to understand his heritage. "I feel doing martial arts in film allows me to use my culture and spread it to different kinds of people, you know? I think it's helpful," the actor says. "I learned martial arts because I saw Jet Li in Shaolin Temple. I thought it was fucking cool, and I wanted to do the same thing."
Into the Badlands returns to AMC on March 19.