'Into the Badlands' Is This Fall's Most Important TV Series
So much depends on a red coat kung-fu master.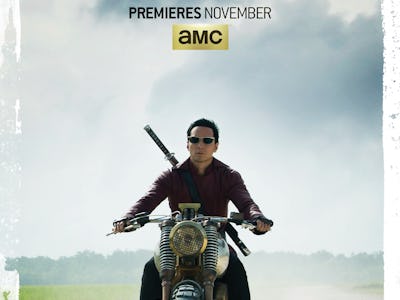 AMC Networks
The recent primetime Emmy Awards glowed with a sentiment that runs parallel with current social attitudes that no one can dispute without coming off as a dick: TV needs to be more diverse.
But contrasting against the wide-eyed optimism of TV's inclusive future has been an onslaught of fall TV previews that clog my Twitter feed, and absent within these quick-hit guides — not all, but a lot — is AMC's Into the Badlands. When it premieres this November, Into the Badlands will be the only show in this Television Golden Age™ starring an Asian male action lead. But in TV previews around the web, the show inspires a shrugged indifference or no mention at all.
Into the Badlands, AMC's newest attempt to keep geeks tuned in after The Walking Dead is a post-apocalyptic riff on the Chinese classic novel Journey to the West. The series looks to be a Tarantino-esque romp that mashes Westerns, steampunk, and kung-fu into a six-episode package. Prolific Hong Kong American actor Daniel Wu plays Sunny, a warrior who mentors a young teenager across a Mad Max-meets-wild west wasteland.
The show is also correcting a mistake made over 40 years ago.
From 1972 to 1975, ABC aired the critically-acclaimed Kung Fu, a martial arts Western that ran for 63 episodes and spawned a sequel series that lasted over 80 more. Created by Ed Spielman, Jerry Thorpe, and Herman Miller, Kung Fu had a vaguely similar premise to Badlands — a Shaolin monk wandering the Old West searching for his brother — and won two Emmys and became a primetime phenomenon. It also had the very not Asian, very white David Carradine play the lead hero Kwai Chang Caine while sporting some of the weakest yellowface since Charlie Chan.
Though Carradine played Kwai Chang Caine competently, his casting in such a popular series was a wildly missed opportunity. Heroic, strong Asian heroes in American pop culture remain rarer than a unicorn, even now. Daniel Wu's presence alone has already set Into the Badlands far apart from the rest of TV.
On a recent Reddit AMA, a commenter asked Wu what it would take for more Asian leads in TV and movies. He replied succinctly, "Commercial success."
Masi Oka, the star of Heroes and Heroes: Reborn, responded similarly to a question I posed to him in his AMA. "Hollywood mostly cares about one color - 'Green' so if they see money in diversity, they will chase it," he wrote.
Recent years have proved that Hollywood does indeed only see green. A 2013 Nielsen report showed that African Americans watch television more than any other demographic, and the studios have responded to such astounding figures. Fox's primetime drama Empire, predominantly starring black actors and co-created by Lee Daniels, shattered ratings in its premiere season which very quickly guaranteed its second.
For Asian-Americans, the only other visible presence on TV right now is ABC's Fresh off the Boat, a half-hour sitcom. Though Fresh off the Boat was hotly-anticipated by Asian-American TV viewers, its ratings remained only steady through its first season. (Another comedy starring funny man Ken Jeong, Dr. Ken, will also have a predominantly Asian cast but it has yet to premiere.)
But different as Into the Badlands may be, armed with an emphasis on kung-fu action (absent in a lot of television) and its unique, stylish world, it still risks being lost in the fall TV cacophony. "[I]t doesn't look different enough from the ongoing spate of … fantasy shows and movies out there" writes The A.V. Club. "Into The Badlands looks, for all its balletic bloodshed, to be too nondescript a fantasy world to truly spark the fan interest necessary to carry its unusual premise."
"This could either be insanely awesome, or incredibly bad," writes /Film.
Should it fail, Badlands could be another sob story, another notch in the post of failures, and another reason more shows with Asian leads are a "bad" investment. Except it isn't: Another 2013 report by Nielsen estimated the buying power of Asian-American households could reach $1 trillion by 2017, so perhaps pop culture just needs time before movies and TV reflecting their perspectives can be a success.
But it's been over 40 years since Kung Fu, and to go another 40 would keep an entire demographic — entire people — from enjoying the visibility born out of primetime television.
"Asian men's low ratings on dating websites points to how influential ideas of the effeminate Asian are," wrote Julia Meszaros on The Huffington Post. She cited statistics similar to those shared by Christian Rudder, the founder of OKCupid and author of Dataclysm. According to his data, the sex appeal of Asian men by women of all races, compared to others were abysmal.
"I can think of heartthrobs of European and African descent and of various other cultures," wrote Ama Yawson in another HuffPo piece, "but I struggle to think of a single Asian-American actor, musician or model who is widely celebrated for his dashing good looks and sex appeal."
It'd be irresponsible to suggest that Into the Badlands will single-handedly reverse the ill social fortunes of Asian men. But if the existence of an entire subreddit or the wildly popular blog Angry Asian Man aren't convincing enough that pop culture representation are powerful resonators, then allow Pulitzer Prize-winning, Filipino-American journalist Alex Tizon in his memoir, Big Little Man to try:
"If a painting or a chapter or a snippet of video had that power, could a single face have given me what I needed during all those glum hours of seeking a worthy origin and a worthwhile destiny? I imagine now that it could have made a difference to me … seeking a place to belong and permission to stretch out. I mull the notion that something so simple could have launched me sooner, and a few feet father, into a wide-open life."
Into the Badlands could very well be a dull television show. Its potential to fail lies on its competency as a story that resonates regardless of its audience's race or identities. But unlike most shows premiering this fall, it is carrying baggage weighted by years of absent presence, giving it a responsibility that most shows don't have to worry about. There is a lot riding on Into the Badlands, and the consequences of its success or failure runs more than skin deep.
If nothing else, Into the Badlands is a dose of kung-fu for an hour every Sunday. Forget representation, that's just plain kick-ass.