Simon Pegg and Nick Frost Are Writing a New Project Together
The 'Spaced' and Cornetto Trilogy alums are back at it.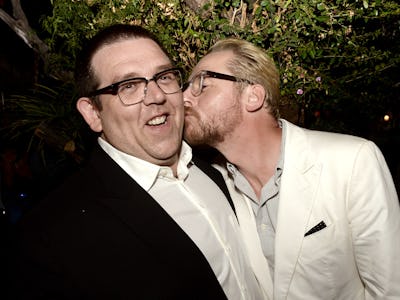 Getty Images / Kevin Winter
It's been over three years since Nick Frost and Simon Pegg collaborated on a TV or film project, but fans of the British comedy stars may not have to wait that much longer for new outing.
"Simon and I are working on something. We're trying to do something a bit special at the moment," Frost tells Inverse. "It's a work in progress, and we may have some more information on it later in the year."
Frost met Pegg in the '90s when he was working at the same Mexican restaurant as Pegg's girlfriend; they soon became close, and Pegg and Jessica Hynes wrote Frost a role in their hit Channel 4 sitcom, Spaced. The show was directed by a young bloke named Edgar Wright, and the three would go on to make three movies together: Shaun of the Dead, Hot Fuzz, and The World's End, which was released in 2013. Together, they formed what's known as The Flavours Cornetto trilogy. In 2014, they suggested they were working on a new film trilogy, but nothing has come of it … yet.
Frost and Pegg also co-wrote and starred in 2011's alien comedy Paul, a movie that, along with Spaced, could serve as a model for their next project. At the very least, he suggests that something that sounds like a mashup of those two would be a dream project for him if money was no option.
"I think I'd [want] to do something in the sci-fi world," Frost, who next appears in the second season of AMC's Into the Badlands, says. "Something a bit ghost hunter-y, or a bit Monster of the Week in a comedy. With two guys and a girl, it's like the X-Files, but they're not affiliated with any government agency.
Frost admitted that they're not sure whether his and Pegg's next collaboration would be for TV or the big screen, though he noted that there's a lot more money in TV these days. Whichever shape the project takes, he's more ready than ever to be collaborative with the executives who will fund and oversee it — a temperament he didn't always exhibit.
"We're not Judd Apatow, we're not J.J. Abrams, so there are still people who say, 'I'd like to see this.' You're still made to jump through hoops," Frost admits. "Everyone has a job to do and everyone has an opinion on everything. Writing Paul, Simon and I would always have a knee-jerk reaction to someone giving a note about something and think, "What do you fucking know?" I think as you get older and you mature more, you realize, you know what? Listen to that note. It could be fucking great, it could be worthwhile."