AMC Is Giving 'Into the Badlands' Season 2
The apocalyptic martial arts drama will continue for another ten episodes next year.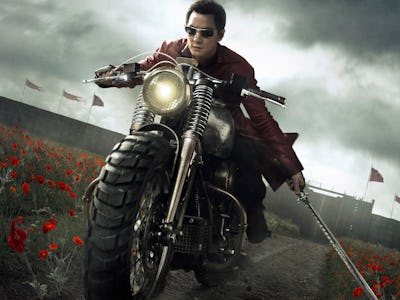 AMC
AMC is going back into the badlands.
The martial arts drama Into the Badlands, which aired Sunday nights after The Walking Dead last fall on AMC, has been renewed for a 10-episode second season premiering in 2017. In a recent a press release, AMC cited the show's powerful ratings of 5.6 million viewers per episode as a strong impetus to move forward.
"With its deep dive into authentic martial arts, the visually stunning Into the Badlands proved to be unlike anything else on television," said AMC president Charlie Collier in the press release. "Co-creators and showrunners Al Gough and Miles Millar, along with a talented team of producers, cast and crew, brought us an artfully crafted series. We're eager to return to the world of barons and blades and spend even more time with these compelling and evolving characters across an expanded second season."
The press release says Into the Badlands Season 2 will premiere globally "within minutes" of the U.S. broadcast. Looks like the wide appeal of Into the Badlands is pretty real.
With a premiere date in 2017, it will be awhile before viewers learn what happened to Sunny, the Widow, and M.K. following the cliffhanger ending. But with the second season slated to run four episodes longer than Into the Badlands' first season, it'll hopefully be worth the wait.