2024's Biggest Sci-Fi Movies Are in Serious Trouble
As the actors' strike continues, Hollywood's most anticipated films are facing newfound delays.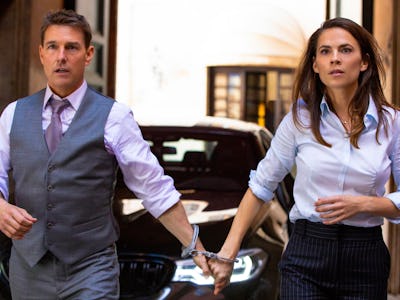 Christian Black/Paramount Pictures
While Hollywood's writers' strike came to a satisfying end in early October, there's still a ways to go before the film industry is officially back to business. All eyes are now on the Screen Actors Guild, which is amid its own negotiations with studios and streamers. Analysts had high hopes for a swift resolution, even predicting a "traffic jam" thanks to all the stalled projects resuming production. But even if SAG does reach a deal with producers soon, several of Hollywood's most anticipated 2024 releases will still face unprecedented delays.
That includes Deadpool 3, the Ryan Reynolds-Hugh Jackman team-up that fans assumed was still on track for its May 2024 release date. It was halfway through principal photography when the strikes forced a shutdown, and now Deadline reports that Deadpool will have to pivot to a Fall 2024 release at the earliest. Captain America: Brave New World — originally slated for a June 2024 release — may be moved forward to take Deadpool's early May window. Flipping movies in an interconnected franchise around isn't ideal, but it is the best way to avoid gaps in the theatrical slate.
Disney isn't the only studio rethinking its releases, as two of Paramount's most anticipated 2024 titles are also in trouble. A Quiet Place: Day One, a prequel to the 2018 hit, was on track for a March 2024 premiere, but according to Variety it's been bumped to June.
A Quiet Place: Day One is replacing Mission: Impossible 8 on Paramount's schedule. The eighth installment of the decade-spanning series was slated for a June 2024 premiere, but the strikes prevented the film from starting production on time. That's pushed the next Mission: Impossible back a full year to May 23, 2025.
Paramount and Skydance are apparently also rethinking its mouthful of a title. Though it's the second half of a two-parter, it sounds like it will have its own moniker when it hits theaters in 2025. That's a messy decision: Mission: Impossible — Dead Reckoning Part One already came and went this year, so it's a bit too late to tweak the title, although it will likely be played down in streaming and home releases. But there's a good development for the Mission: Impossible series too, as whatever the eighth film is called, it will have an IMAX-backed opening. That privilege eluded its predecessor, which premiered only a few short weeks before Oppenheimer and Barbie, and definitely suffered for it after being booted from IMAX almost immediately.
Hollywood is doing the best it can to accommodate production delays, but had studios and streamers cut a fair deal with actors, the majority of 2024's biggest films might have been salvaged. Until they have a change of heart, these are the sacrifices they'll have to make.