Is 'Purple Reign' the Beginning of a More Boring Future Administration?
Atlanta rapper Future's first tape since his third album -- the #1-charting 'DS2' -- doesn't tell us anything, musically, that we don't already know. But it evidences that he can be content resting on his laurels.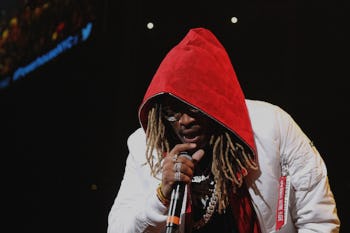 Getty Images
This summer — when Future hit #1 on the Billboard 200 with his third album DS2, coming off a series of almost universally rave reviews — he effectively entered a new stage in his career. He was rebuilding his style, moving from being a heavily 'Tuned balladeer and hook delivery service to returning to the straight-ahead trap music that made him an Atlanta legend in 2010 and 2011 — but with a muted, melancholic twist. To redeem himself musically, he embraced the newfound bad-boy persona with which he had been saddled following a less-than-amicable breakup with R&B singer Ciara, with whom he has a child.
With his new streamlined and vitriolic sound, Future poised himself for an even-more-massive takeover than he had made before as a near-pop-star. Along with Metro Boomin — the ATL producer which Future, along with Thug and Gucci Mane before him, made one of the most in-demand artists in the industry — Future set the trends more than ever. His newfangled trap music was all soft menace, faster tempos, and weirder, more haunting synths and samples. Flows were rapid, effortless, and dead-eyed.
Future surprise mixtape this weekend, Purple Reign, is, unabashedly, a rote continuation of this style, and feels like a low-stakes addendum to the work he's done through the past year and a quarter. Most of the time, the rapper spits in the same gently speed-ramping, flat-toned triple-time patterns he's used throughout his past four major releases. In many ways, Purple Reign mirrors the approach of Monster, the October 2014 tape that inaugurated the most significant period in the rapper's career. Despite notable appearances by other producers (see "Fuck Up Some Commas" and "Codeine Crazy"), that tape was also executive produced by Metro Boomin, and was dominated by his sinister, cacophonous synths overlaid with lithe, galloping beats, as well as complimentary, humorless production from fellow ATLer Southside.
By now, Metro's signature sound is ubiquitous, popularized especially by Future and Drake collaborations from last year like "Jumpman" and "Where Ya At." While some tracks like the garbled call-and-response of "Wicked" update the Metro-Future template appealingly, their collaborations feel, for the most part, like new, more habitual takes on music we have heard from them before. And why shouldn't they continue to cash out on their widely successful sound, with which every artist from up-and-coming street rappers (Bankroll Fresh) to icons (Rick Ross and Kanye) have become enamored? However, it seems unlikely that even a Future newcomer hearing this tape would become particularly excited by tracks like "Drippin" and "Hater Shit."
"Put some cough syrup in a Mountain Dew/You would never see what I'm goin' through…"
It's work by some of Future's longer-time and more sporadic collaborators that bring about the tape's most memorable moments. Zaytoven — the veteran Atlanta producer who crops up on nearly every Future release for a couple of songs, and was the sole producer behind his Beast Mode tape of a year ago — delivers a beat that Gucci Mane and OJ Da Juiceman could have easily rhymed over six years ago on "Bye Bye," but provides a needed sunny counterpoint to Future's monotone, brutalist flow. Nard'n'B accomplishes something similar on "Inside the Mattress," the most melodic and dynamically varied track on the tape.
Future is best here when he's really interacting with the details of the beat in an exciting way, rather than just running roughshod over it using familiar flow. The best track on the tape, however, is "Run Up" — the handiwork of "Commas" producer DJ Spinz — where a bongo drum echoes the snare pleasantly, and Future's flow seems at pains to sound more clipped than the blips of drums on the track's central ear worm ("Dare you try to run up broad day, try to run up")
"I just get them Xans and the light becomes a shadow…"
If you're looking for Prince samples or any clear references to the Minneapolis rock legend on this aptly named tape, you'll be sorely disappointed — it's just as well for Nayvadius, as the Purple One is notorious for not taking kindly to copyright infringement. It's too bad, perhaps, as some weird source material might have made this tape something more unexpected, and began a welcome push past the fruitful era of DS2 into more uncharted water. But no, Purple Reign — the title — just signifies Actavis and how comfortable the view is from his throne. So yes, all hail the presiding king of street rap, but if returns like this tape keep coming in, it will be interesting to see how long his tenure lasts.