Bankroll Fresh, 21 Savage, and the Future of Atlanta Hip-Hop
Two new mixtapes illustrate unexpected promise for the future of street rap in Atlanta in the wake of Future and Young Thug.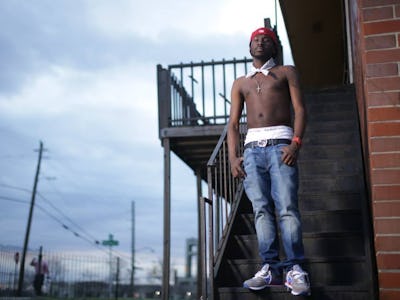 Atlanta has been the most influential city in rap for over a decade. It's a claim that "real heads" who believe most rappers would be better off sounding like Nas or Kendrick might quibble with, but there's plenty of hard data to support this claim. You can look at it from either the perspective of business or purely musical evolution: from sales in the early-to-mid-'00s in the age of snap and "ringtone rap" (from Lil Jon to D4L to Soulja Boy), to the prominence of trap production and flow patterns in mainstream rap and pop in the last three years.
Today, the hip-hop figureheads of the city, and the rappers setting the trends and forwarding the genre, are Future and Young Thug. There is almost an oversaturation of prominent ATLiens — Rich Homie Quan, Migos, iLoveMakonnen and beyond. Then, there's an extended universe of functional but unremarkable trap rappers who wouldn't exist in their current form with mid-00s hometown pioneers Gucci Mane, Young Jeezy, and (to a lesser extent) T.I. People look to Atlanta for new music, and tapes by most of these guys will show up on "Most Downloaded" ranking on your favorite mixtape aggregator sites.
Truthfully, the ATL-centered trap sound — stone-skipping hi-hats, death-rattle sub-bass, slow BPMs, John Carpenter synths — is getting decidedly more tired, and it's becoming harder to ignore that fact. It's becoming tougher and tougher to wring anything new out of the components, to find original voices. Yet some alluring new generation of MCs always seems to come along to extend the legacy. With the impressionistic and unfettered style of Young Thug, it almost seems like the possibilities of the style as we know it are at an end.
But there is too much talent in Atlanta for the style to go easily: Legacy producers like Zaytoven, Metro Boomin, and London on da Track are among the most in-demand producers in the industry, but they still serve beats to smaller, rising MCs they believe in, and mid-tier acts they remain loyal to. Zaytoven did an entire album with Baltimore's Shy Glizzy this year, and Metro Boomin has a project with Chief Keef due out any day now. They also morph and refine their sound, even when the MCs they work with stick with what they know — these days, the density is lighter, and there's a more upbeat, most West Coast cadence seeping in.
One of Zaytoven's strongest beats of this year — a glitchy assault mitigated by high, blues-tinged piano figuration — crops up on two new mixtapes from the new Atlantans of the present moment: Bankroll Fresh ("Poppin Shit") and 21 Savage ("Motorcycle"). Its style is along the lines of Zaytoven's work on "Colossal," one of the stronger tracks off of Future's DS2.
Both 21 Savage and Bankroll Fresh are slowly coming into their own as distinct voices — Bankroll is further along — and have clearly gained steam and inspiration from the approach of Future and Thug. All four artists' music draws from the same well of muted, lawn-sprinkler flows and well-contained menace. Though the music of Bankroll and 21 Savage is low stakes — furthering a tradition rather than transforming it — their recent tapes have a personality to them that their previous music didn't. Perhaps a large part of the key is the adventurous, easily derailed production that peppers their tapes, seemingly getting drunk off of their most vociferous inclinations.
BALLIN' LIKE A HOT BOY
Bankroll Fresh has been struggling for a spot on the ATL scene for years, and he's finally getting his due as one of the major rising stars in his city. He featured in the Noisey Atlanta web miniseries as a token example of the up-and-coming street rapper trying to turn a buzzing hit — 2014's serviceable "Hot Boy" — into a national career. On his latest independently released project (self-titled), Bankroll sounds like he's seeking to re-announce himself properly, and demonstrate his prowess as a mixtape kind. Unlike the streamlined tapes which facilitate Future's return to hard-edged street rap of the course of the past year, Bankroll's newest project is 18 songs; at least six are throwaway.
This is snarly, kinetic music that is mostly about turf wars ("Walk in your trap and take over your trap") and cooking crack. There are a few exceptions to the rule, and more patent emotional expressions: come-on ballad "Don't Let Go." But Bankroll manages to make this not really matter: His voice modulates expertly from song to song, and there's an unique, arresting energy here. These mini-screeds — often clocking in under two minutes — have the quality of a guy taunting you in a one-sided conversation, talking close so the spittle hits your face. Bankroll says little with too many words, but he usually sells it thanks to his careful sense of how to sell obvious, even silly rhymes as a musical choice rather than a crucial mode for his stories. Occasionally, his gravelly and aggressive delivery channels a more stylishly slurred DMX.
From at least the perspective of beat selection and variety, this is one of the strongest Atlanta mixtapes of the year behind Thugger and Future's paradyme-shifting releases. There's plenty of notable moments: the wild howls of oddball Autotune outlier "Trap Bitch,* the unlikely waltz time of "Alpina Beamer," the rickety industrial trappings of "Van Damme" and the vintage gangsta-rap leanings of "M.O.B."
HOW SAVAGE?
Chicago's "drill" music was originally an outgrowth of Atlanta trap — particularly the behemoth constructions of Waka Flocka Flame and trap production innovator Lex Luger, who were still the rage when drill was gestating in 2011 and 2012. So to claim that artists outside Chicago are imitating "drill" can verge on a chicken-or-the-egg type argument; the lineage of influence isn't always clear, though it has certainly been manifest in the work of popular acts of the past few years like Bobby Shmurda and espoused Keef and Lil Durk advocate Fetty Wap.
Atlanta up-and-comer 21 Savage uses flows and oddly fibrillating deliveries favored by Chief Keef, Fredo Santana, and Lil Reese, and arguably there is as much of them baked into his newest music as the normal Atlanta icons — Gucci Mane, Waka, and Young Jeezy — though one of 21 Savage's most prominent releases was an EP called Free Guwop, a tribute to Gucci. It can't be coincidence that there's a feature from local Chicago favorite Dreezy on 21 Savage's flip of the Bankroll-favored Zaytoven beat on his new tape Slaughter King.
21 Savage — who is somewhere in his early 20s — doesn't quite have his sound together, but he's got a confident, intimate delivery that is getting a lot of cachet in his city right now. Toying more with personal narratives and, as with Bankroll, varying vocal inflection on his newest tapes makes it the most engaging thing he's put out yet. And even more so than Bankroll — whose tape comes mostly courtesy of his lesser-known compadre D. Rich — Savage is wrangling a lot of all-star beats on his projects. He's clearly attempting to make a bid for the next level of stardom, though there is too much throwaway here obscuring his strengths.
Savage might do well to take his friend Metro's own controversial advice, and Bankroll too. Both rappers dropped multiple projects this year.
One might look at the work of these rappers and their prominent vocal frys as evidence of Southern street rap being stuck in the mud, but the more tolerant might take it as a sign that it's still worth filtering through hoards of Soundcloud hopefuls to find new talent — even if you only end up with a couple of songs to put on a mix.
Atlanta's strip-club-based infrastructure for sustaining mixtape-famous hometown heroes remains intact, and it's doubtful that these guys will do anything other than stay independent and crank out lengthy, ramshackle projects in order to keep scoring club appearances. But especially in Bankroll's case, these new tapes are a welcome surprise for the holiday season, cultivating a slightly demented posture and infectious energy. 21 Savage has a lot of great people in his corner — a collaboration with Metro called Savage Boomin is supposedly languishing somewhere behind the scenes. So it will be interesting to see if he can continue to define his personality - and perhaps ground his stuff in some stronger choruses — as he garners increasing national attention.