Hulu is Now Home to the Best Board Game Thriller Since Clue
Plot twist: a movie based on a video game based on a parlor game is actually good.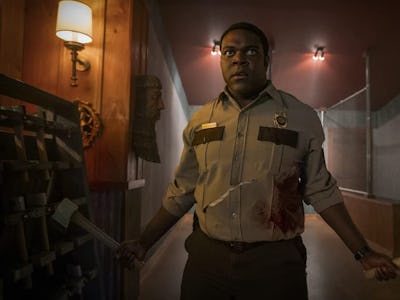 IFC Films
Everyone knows about the video game curse — the fact that most movies based on hit games bomb — but movies based on board games haven't had much luck either. For every Clue, there's a Battleship. But in 2021, one movie managed to successfully adapt a video game (itself an adaptation of a parlor game). The result was far better than anyone could have expected thanks to a devotion to classic genre tropes over flashy special effects.
Werewolves Within is streaming now on Hulu. Here's why it's worth watching this low-budget whodunnit thriller, and what you need to know before you start your next movie night.
Werewolves Within is based on the game of the same name, which itself is inspired by the parlor game Werewolf (also known as Mafia). It's a game of paranoia, suspicion, and turning on your friends.
To translate the game into a movie there first needs to be a hero, and that comes in the form of forest ranger Finn Wheeler (Sam Richardson), who's assigned to the small town of Beaverfield. His first friend is the mail carrier, Cecily (Milana Vayntrub), although he quickly gets to know everyone. Together, they fill all the small-town mystery tropes: the no-nonsense innkeeper, the mysterious loner who lives in the woods, the eccentric scientist, and so on.
When a massive storm knocks out power, the residents gather in the inn, realize there's a werewolf among them, and vow to suss them out. Just like in the game, there are wild accusations, dubious logic, and plenty of betrayals and twists.
Werewolves Within takes more than a few notes from another classic 1974 B-movie, which paused two-thirds in to ask the audience to guess which of the eight main characters was secretly a werewolf. While there's no Q&A break here, there's the same low-budget charm and comedically gifted cast that creates a movie with a lot of heart.
Sam Richardson, usually typecast as the nice guy in projects like The Afterparty and Veep, shows serious slasher chops as the grounded Finn, and his chemistry with Milana Vayntrub, best known for AT&T commercials and almost being Squirrel Girl, carries all the dark comedy banter.
"The humor saves it from taking itself too seriously at some points, but then the stakes of it stop it from being too silly," Richardson told Inverse in 2021. "I was confident in myself to navigate and play those energies in that sweet spot as a nice character, and I feel I'm pretty proficient at comedy to juggle that energy and be that conduit."
Without spoiling anything, this isn't your normal slasher. The final twist hits a sweet spot between obvious and out-of-nowhere. It's a last-minute heel turn that will have you scrambling for the remote to rewind so you can pick up the clues, which are carefully laid out but unnoticeable until you know the truth.
Much like the game, Werewolves Within is best enjoyed with friends. You can pause and debate the evidence before you learn the truth, which will likely prove you wrong. But if you're right, you can earn some serious bragging rights and have a lot of fun doing it.
Werewolves Within is streaming on Hulu.