Ghost of Tsushima Movie Could Prove the "Video Game Curse" is Outdated
Does that "video game curse" really exist anymore?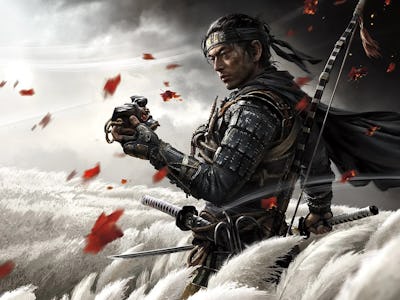 Sucker Punch Productions
Chad Stahelski's Ghost of Tsushima adaptation may be coming to us sooner than we think. The John Wick director was tapped to direct a live-action version of the Sucker Punch game back in 2021, and has since made his excitement for the film endearingly clear. Stahelski told Collider of his plans to shoot the film entirely in Japanese, and with an all-Japanese cast, that same year. The director seemed confident that Western audiences would be game for a foreign-language film, but there is one other variable that might have been standing in the way of this project getting the greenlight: the "video game curse."
Stahelski recently spoke to The Post-Credit Podcast about the status of his adaptation. "We have a lot of push on [Ghost of Tsushima] and a lot of interest because of The Last of Us," Stahelski explained. "The curse of video game-to-movie is kind of lifted. It can be done. You've just got to give it love and attention."
HBO's latest hit has definitely become the poster child of a successful video game adaptation. Side-by-side comparisons of gameplay have been the topic of interest for many a Last of Us fan, but it's also been exciting to watch just how the series expanded on its source material. It's certainly one of the most respectful adaptations of later, but can it really be said that it broke the "curse" of the game-to-movie trend?
Films that adapt video games are not unlike romantic comedies: for every unmistakable hit, there's a debilitating miss as well. Hollywood's been adapting gameplay for the big screen for almost 30 years. Things kicked off to a bumpy start with Super Mario Bros. in 1993, but no one can say that Paul W. S. Anderson's 1995 adaptation of Mortal Kombat wasn't a total knock-out. The 2000s demonstrated just how lucrative these films could be — think Angelina Jolie's Tomb Raider or Anderson's Resident Evil franchise — but the 2010s were not as kind to the genre. The decade was rife with misses and modest successes like Prince of Persia, Need for Speed and Assassin's Creed. Most were fun, and some made a splash at the box office, but audiences just didn't seem all that interested anymore. After 20-something years, they'd been acclimated to the immersive thrill and real-but-not worldbuilding that games could offer, but original action films were actually doing it better.
Audiences wanted the hyper stylized look of films like Sucker Punch and Kingsman: The Secret Service. They wanted to experience the thrill of a third-person perspective in Edge of Tomorrow or 1917. And don't even get me started on all that James Cameron's Avatar did for the genre. And on the video game side, games like The Last of Us and Ghost of Tsushima have become increasingly cinematic (the latter even had a "Kurosawa Mode" in deference to the master of samurai cinema, Akira Kurosawa.
Perhaps there's no longer a game-to-movie curse because so many movies have become video games — and vice versa. It's not a question of whether Ghost of Tsushima can break the curse, but whether it can beat the competition.