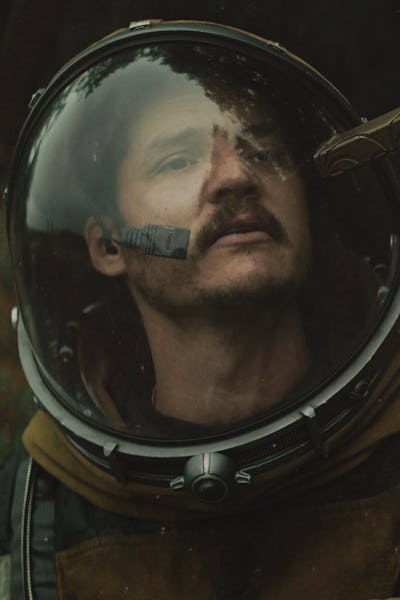 "I don't know, I love playing these parts."
You need to watch Pedro Pascal's grittiest sci-fi movie on Hulu ASAP
This forgotten 2018 film defined more than one career -- and it was years ahead of a current trend.
2018 may feel like yesterday, but it's now half a decade ago, and the entertainment world of the time looked completely different. 2018 was before Disney+, back when Star Wars was limited to the annual sequel trilogy release and occasional Solo adventure. HBO Max was nothing but a twinkle in AT&T's eye, and fans were optimistic about Game of Thrones' penultimate season.
Yet one 2018 movie singlehandedly predicted not only where sci-fi was headed, but who would be leading the charge. In fact, you can draw a line from this obscure flick to HBO's The Last of Us.
At first glance, Prospect looks like your average low-budget sci-fi movie. The production design was purposefully DIY, involving lots of dirt rubbed onto everything and a mantra of "technology cannot save you." But the story, and especially the cast, elevate it from a one-off film festival flash in the pan to something eerily prescient.
Prospect stars Sophie Thatcher, now known as young Natalie on Yellowjackets and the cyborg greaser Drash from The Book of Boba Fett, as Cee. The teenage protagonist travels to a strange planet with her father, Damon (Jay Duplass), to mine an extremely valuable gem called aurelac. Except, it turns out the planet is filled with deadly spores. To make matters worse, a rival prospector named Ezra (Pedro Pascal) shoots Damon after a tense encounter goes wrong.
Ezra and Cee are skeptical of each other (not a huge surprise considering the murder that just occurred), but hesitantly join forces to survive the planet's perils and hopefully find the Queen's Lair, an aurelac motherlode. That's right, Prospect is a story where Pedro Pascal plays a gruff man who only looks out for himself until a child softens his heart — but this one came out years before The Mandalorian and The Last of Us.
Pedro Pascal is well aware of the pattern.
"I realize in retrospect that the filmmakers of Prospect probably were huge lovers of [The Last of Us]," Pascal tells Inverse in a roundtable interview. "In Prospect, The Mandalorian, Wonder Woman 1984, and [The Last of Us], single dads can be heroes. I don't know, I love playing these parts. They're all so, so, so different, but they all have this really powerful common thread."
Casting two future Star Wars stars is only the beginning of what makes Prospect brilliant. Though it's definitely lower-budget, nothing feels cheap because it's all supposed to look cheap. The world is meant to feel like it was made with an old gas can and a handful of thumbtacks. Spare parts are essential to Prospect's world, which means the production budget could be put where it was really needed: key shots that establish the alien world.
Thatcher and Pascal add to this worldbuilding with grounded performances. Thatcher's jaded teen façade that covers a scared child is universally relatable, and Pascal plays Ezra like a less honorable Mando with an accent that's a delectable cross between Joel Miller and Benoit Blanc.
With both actors now reaching new career heights, Prospect proved that while trends may start from the top and trickle down, brilliant ideas are often found in lower-profile movies. Prospect is a space western that doesn't rely on the Star Wars sandbox; it's a two-hander in a hazardous world; and it's a story of greed, poverty, and survival years before these elements became sci-fi mainstays. What more do you need?
Prospect is now streaming on Hulu.