Anonymous App tbh is Like Sarahah Without the Cyberbullying
It's a gamification of popularity contests.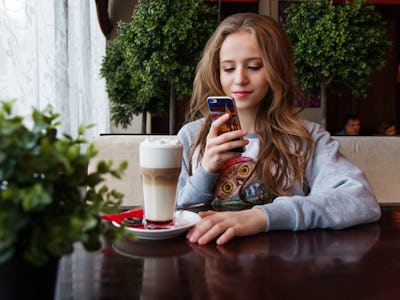 Pexels
If there's anything teens love, it's apps that let people anonymously decide whether they are cool or not. Over the summer the anonymous messaging app Sarahah, linked to Instagram and Snapchat accounts, dominated the game as the number one free Apple download until it met its inevitable demise in popularity. Now the teens have turned their youthful eyes to another, shinier, and allegedly nicer application: tbh, which sells itself as the way to "see who likes you."
Launched August 3, tbh is currently the most downloaded free app on iTunes with over one million downloads. Developed by the relatively small Midnight Labs LLC, it was designed as a positive alternative to apps like Sarahah and Yik Yak, which have been criticized as platforms that enable cyberbullying.
"We built tbh because we believe that social networks should make us feel better about ourselves — not worse," Midnight Labs says on its website. "To be honest, we love our members and we only want the best for them."
Tbh works as a platform of polls about the friends in the contact list of the users. The app provides its own questions, like "who has the best smile?" but users can submit their own questions as well, which are allegedly approved by the app before they are posted. The poll aspect of it is the list of names after the question: Users choose who on the list fits the question the best, and if a user is chosen they are alerted and given a "gem." If the gem is pink it means a girl you know chose you, if it's blue that means it was a boy — because, if anything, the real drive behind these applications is to see if anyone you know has a crush on you.
"I know a lot of people are giving this bad reviews cause it's one of the anonymous things so they are saying that kids are being mean to each other," reviewed tbh fan Peacelovemakeup. "But this app is so positive! It would be impossible for anyone to be mean on this since it only generates positive polls! I got this app only a couple of hours ago and already have 227 gems from my friends saying only nice and fun things about me!"
Which, great for Peacelovemakeup. It will, however, be interesting to see if app can progress as a "positive tool": Tbh is inherently still a popularity contest, with one person being chosen over others. Other iTunes reviewers have already requested that they can ask "at least mildly inappropriate" poll questions, which is suspect as this is supposed to be an application for kids ages 12 and up. What does make tbh's design less prone to cyberbullying, compared to say Sarahah, is that you can't send direct messages: It's more like a game, and being picked is the prize.
Despite its thousands of downloads, tbh is currently only available in Florida, Washington, Texas, California, Connecticut, Massachusetts, Rhode Island, Georgia, and Indiana. Midnight Labs says that it intends to make the app available on Android devices soon, as well as move into teen territory in other states. The company also says that it doesn't "have plans to monetize" the application right now, but if that happens, "we'll be soliciting feedback from the community to make sure it complements the experience." Will teens eventually fork out their allowance to see if they would be the most likely to be asked to dance? When you look at the massive app tabs kids and teens have run up in the past, the answer is probably yes.