You Gotta Watch These 5 Movies Before You See 'Deadpool'
Here are some recommendations to help you ease into Marvel's 'Merc with a Mouth.'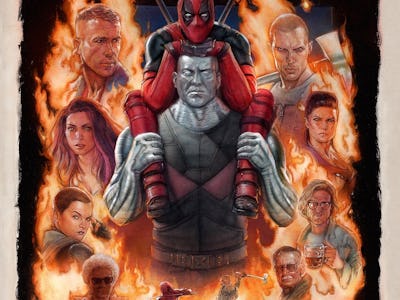 www.facebook.com/DeadpoolMovie
Valentine's Day will be here before you know it, and you know what that means! No, not a nice, romantic candlelit dinner with your significant other. You can do that whenever you want, and for cheaper. Dinner happens every damn day. Valentine's Day weekend 2016 means Deadpool. Try not to go off half-cocked.
Who is Deadpool, you ask? Well, he's none other than Marvel's wisecracking, fourth-wall-breaking, superhuman healing mercenary. And after eons of fanboy clamor, he's getting his own R-rated movie directed by feature film newcomer and visual effects artist Tim Miller. He's an outlier among non-Marvel Cinematic Universe heroes because he's a third-tier niche character whose adult humor and anti-hero status makes him decidedly less of a role model than, say, Captain America — or, come to think of it, most of the villains Captain America fights.
We know you have a nice thick base of every X-Men movie and MCU entry already, so to help you get to know Deadpool before the movie drops on February 12 let's take a look at the cinematic antecedents to the "Merc with a Mouth."
5. Die Hard
This isn't just another excuse to watch Die Hard and realize just how awesome it is. Die Hard's resilient and sarcastic protagonist, John McClane, is almost a forerunner of Deadpool and his normal identity, the former armed forces soldier Wade Wilson. McClane and Wilson both seem to get over a situation before they even figure out how to get out of it. Give McClane super powers and maybe replace his world-weariness with more absurdist quips, and you're on the way to having Deadpool.
4. The Voices
So, wait, how does a psychological horror comedy about a lonely guy who goes all Son of Sam on everybody after his pets convince him to commit a series of murders prep you for Deadpool? Well, the movie, directed by Persepolis author Marjane Satrapi, manages to make the heinous and schizophrenic human being played by Reynolds into a likable guy. Chances are the filmmakers behind the superhero movie may have seen Reynolds' performance and figured he could pull off the ultraviolent mix of gore and lighthearted quips that makes the Deadpool character so unique. Deadpool will be a black comedy cased in a Marvel mold, and The Voices is just offbeat enough to see how Reynolds can make that work.
3. Green Lantern or X-Men Origins: Wolverine
Besides his 2004 short film Gopher Broke that earned an Oscar nomination, Deadpool director Tim Miller has worked on a handful of superhero movies including X-Men, X2, Daredevil, and Thor: The Dark World. So he sure as hell has the hits and the misses in the back of his mind. Namely, Reynolds and the character's misses: Green Lantern and X-Men Origins: Wolverine. Fans howled after the character's brief, hyperbolic appearance in Origins, and Green Lantern was such a mess it gets a shout-out in the Deadpool trailer: "Please don't make the super-suit green … or animated," Reynolds says as Wilson in the Deadpool trailer in reference to the oft-criticized DC comics character's overly CGI on-screen duds. You learn from your mistakes, and hopefully Deadpool won't be added to this relatively short list.
2. Zombieland
Again with the humor, this time with a zombie twist. Deadpool was written by Zombieland scribes Paul Wernick and Rhett Reese, so expect the same kind of gore-based yuks that has made their Jesse Eisenberg and Woody Harrelson fronted zom-com into a surprising cult classic. Childish one minute and disgusting the next, the tonal and genre shifts in Zombieland typify the multi-functional atmosphere that Deadpool needs to succeed. Deadpool needs high-quality vulgarities to succeed, and based on Zombieland, Wernick and Reese should be able to pull that off.
*1. Kick-Ass*
Superhero adaptation? Check. Black comedy? Check. On-screen action and mayhem? Check. Meta-commentary on the absurd proliferation of big-budget comic book movies? Check and check. We could be talking about Deadpool but we're also talking about Matthew Vaughn's 2010 comic book deconstruction Kick-Ass, the movie that perhaps shares the most with Deadpool on the basis of shear WTF-laden energy. It's something that Vaughn has continued to do well, especially in last year's absolutely bonkers Kingsman: The Secret Service, and though the trailers for Deadpool have only hinted at it, it seems like Miller and Reynolds definitely want to capture some of the craziness balled up in Vaughn's movies and make it their own.