This New 'Deadpool' Trailer Promises It Will Be Funny as Well as Violent
A new TV spot plays up the humor from Marvel's 'Merc with a Mouth.'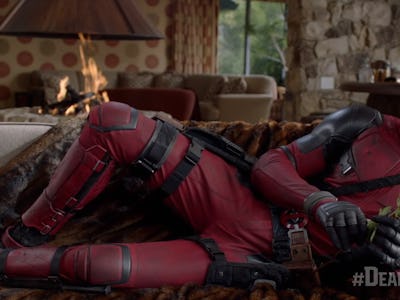 YouTube
People hate Ryan Reynolds because his voice is grating most of the time and he's the definition of smug, so it's obvious they'd skip his new comic book adaptation, Deadpool, when it hits theaters on February 12, 2016. But! A new 30-second TV spot that debuted during The Bachelor this week could possibly, maybe, potentially change their minds.
Because the ultra-violent Deadpool is going to be funny, too:
The quick clip plays up the humor inherent in the Deadpool character, and it's actually fairly funny. With a rose in hand, the "Merc with a Mouth" directly addresses The Bachelor's demographic, saying, "You're probably thinking, 'My boyfriend said this was a superhero movie,' well, surprise, this is actually — lucky you — a love story."
It's pretty childish, but it's fun, which is exactly what the character is all about. They even use that awesome DMX song from, like, 15 years ago. Yes, it could all probably be an ill-fated Reynolds vanity project that will spell doom for R-rated comic book adaptations in the future, but we'll have until Valentine's Day weekend to speculate on that.
As far as new footage in the brief teaser goes, we get some more glimpses at Morena Baccarin who plays Vanessa, Wade Wilson's girlfriend. Even though Vanessa inevitably gets put in harm's way, forcing Wilson to assume the identity of Deadpool to get her back, it looks like Vanessa can hold her own. "I've played a lot of roles. Damsel in distress ain't one of them," she says, before cold cocking a dude in the face. Seems like she doesn't need to be a superhero to mess things up for the bad guys.
We also get a short line from Colossus, who supposedly has a major part in the movie, while Brianna Hildebrand's Negasonic Teenage Warhead gives some passive aggressive sass. We'll get to see how all this and more plays out for Marvel's unconventional antihero when Deadpool hits theaters next month.