Ryan Reynolds is Trying His Own McConaissance
Can the actor reverse his drooping career trajectory?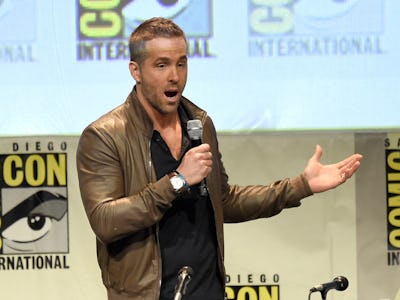 I know what you're up to, Ryan Reynolds. I see these new attempts to change your on-screen persona in the public eye, from smarmy manchild to serious thespian and, hopefully, legitimate action star. I admire the approach, but I worry you will hit your head against a ceiling much faster than others who have attempted this image makeover.
Reynolds is trying his hand at his very own McConaissance. If his new slate of films is an indication, he is trying to steer his career out of the ditch of lowbrow, fart-laced drivel and meh action. Before we approach the red-suited elephant in the room, take a look at his upcoming dramatic turn in Mississippi Grind:
That most folks won't find Mississippi Grind at their local multiplex misses the point of the endeavor for Reynolds. He is hitting this for the accolades, to build some dramatic street cred. This turn seems to be paying early dividends, as Mississippi Grind is holding firm at 90% on Rotten Tomatoes. The critics are heaping praise on both Ben Mendolsohn and Reynolds. David Rooney said of Reynolds in his Hollywood Reporter review, "It's hard to remember this ridiculously handsome actor's talents being put to more effective use."
Mississippi Grind is a step in the right direction, an attempt to begin erasing what has been a rough decade-plus for Reynolds. The misses are depressingly steady, from Blade: Trinity to the manic misfire Smokin' Aces to The Proposal to The Change-Up — and on and on we go. The sheer mention of Green Lantern is enough to send fanboys reaching for their inhalers. What was this?
Reynolds's trajectory serves as the photo negative of Bradley Cooper's. Ol' Coop has become one of the most sought after leading men in Hollywood after getting his start in the same undemanding cinematic fast food Reynolds did. Meanwhile, Reynolds has turned into reheated leftovers.
Matthew McConaughey has charted this path before Reynolds. McConaughey was lost in the purgatory of rom-coms and failure upon failure before reshaping his game and ultimately reaching the podium on Oscar night. He started small, under the radar with films like The Lincoln Lawyer, Killer Joe, and Mud to build cred in Hollywood. Mississippi Grind could be Reynolds' very own Lincoln Lawyer.
Unlike McConaughey, Reynolds also owes a pound of flesh to fanboy nation after killing Green Lantern. His redemption could come in the form of Deadpool, a swearing, slaughtering superhero that has some of the most dedicated following in the entire comic universe. The film drops in February 2016, and the trailer that hit at the San Diego Comic-Con sent fans into a frothy frenzy, with demands to see it again once it ended. This is a good sign for Reynolds and the film, and perhaps his turn as Deadpool will further work to cultivate his new image.
Mississippi Grind should go a long way in opening up more thought-provoking avenues in Reynolds' career. Deadpool should get him in the good graces with fanboys. But with new power comes new responsibility, and I'm not certain Reynolds can reach the heights of McConaughey. He's still missing a physical transformation, and I'm not talking growing a beard or gaining 12 pounds; I'm talking emaciated McConaughey, I'm talking bloated De Niro. Some sort of image makeover cannot be entirely realized until physical strife is brought into play. If that happens, perhaps in a few years we will coin a new term: The Reynoldssance.
Doesn't quite have the same ring, though, does it?