The 'Deadpool' Trailer Has Ryan Reynolds Turned On
The Merc with a Mouth finally gets his own movie.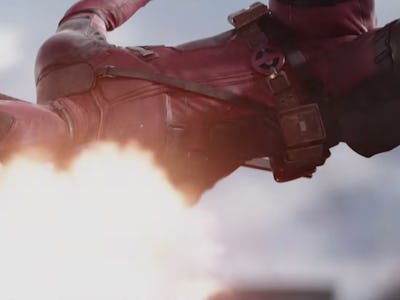 Marvel.com
"Merc with a Mouth" fans who didn't manage to reserve a spot in Hall H earlier this year at Comic-Con have been waiting for the day when they could see a non-bootlegged version of the Ryan Reynolds-led Deadpool trailer. Well, today's the lucky day.
The red band version debuted earlier tonight on Conan in glorious high-res where Reynolds was the first guest, and it was filled with so much NSFW awesomeness that it forced Team Coco to go TV-MA.
The clip is basically the same deal from Comic-Con: same self-referential humor (we enjoyed the dig on Reynolds' previous superhero travesty, Green Lantern), same fourth-wall-breaking shenanigans, same glorious ultraviolence that comic readers have come to know and love. Reynolds stars as Wade Wilson, the smartass Special Forces operative who comes down with a bad case of cancer before being saved by the Weapon X program (a.k.a. the same one that saved Wolverine), thus giving him the ability to heal basically any wound, but also permanently, horrifically, scarring his face and body because why not.
The fact that we're even seeing this trailer is a small miracle. The Deadpool movie was, well, all but dead until it was revived in 2012, when the uber positive response to a test reel put together by current director Tim Miller and featuring Reynolds as Deadpool convinced the powers with the money that a hard R-rated superhero movie was viable.
This is seemingly the only time a superhero character has been rebooted but the lead actor stayed the same. As this hilarious teaser for the teaser trailer points out, the people behind Reynolds' previous onscreen incarnations in X-Men Origins: Wolverine effectively ruined him by taking away the character's defining potty mouth (not to mention the whole thing being one of the worst superhero movies ever made). But if the trailer above is any indication, we won't have to worry about that one bit.
Besides Reynolds, Deadpool also features Morena Baccarin as Copycat, Gina Carano as Angel Dust, T.J. Miller as Weasel, Ed Skrein as Ajax, Brianna Hildebrand as Negasonic Teenage Warhead, and Andre Tricoteux as Colossus.
The movie and it's delightfully dirty sense of humor hits theaters on February 12, 2016.