The 5 Best Summer Blockbusters of 2016 Are Practically Here Already
Ghosts. Orcs. Superheroes. Zac Efron's abs. These are the films you won't want to miss.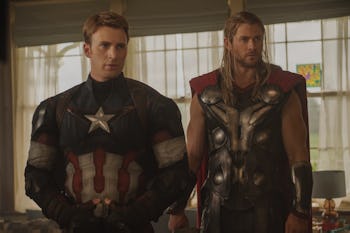 www.facebook.com/CaptainAmerica
Yo, happy January. Now that we got that out of the way: Here comes summer. Mostly on the strength of some gimongous hits, the world box office crossed $38 billion mark at the global box office in 2015, and Hollywood is coming back for more, with that ever-widening summer season as the standard-bearer. Which of the coming tentpoles will be worth your time between May and Labor Day?
Keep an eye out for these during 2016's hot midsection.
5. Neighbors 2: Sorority Rising
The college comedy Neighbors went up against no less than The Amazing Spider-Man 2 in May 2014 and — well, it didn't win, but it was still a massive and unexpected hit. Turns out the antics of Seth Rogen, Zac Efron, and Rose Byrne were worth a cool $270 million on an $18 million budget, solidifying it as a Hangover-level R-rated comedy force. The sequel is on the way two years later, and with a plot that basically mirrors the original (with an unruly sorority swapped for an unruly frat this time). You will laugh at things that make you feel bad about yourself. Of course you should go.
4. Star Trek Beyond
People said the first STB trailer made it look like a Fast & Furious movie. That could work out to be a flattering comparison. Beyond will be the first rebooted Star Trek movie directed by former F&F helmer Justin Lin, now that J.J. Abrams jumped to a different Star franchise. After the misplaced severity of Star Trek Into Darkness, Lin will bring some much needed ensemble fun to the voyages of the Starship Enterprise.
3. Warcraft
Here's our first wildcard of the bunch. It may not be an original story, as it's based on the massively multiplayer online role-playing video game series. But what Warcraft lacks in innovation it gains in sheer ambition. The trailer for director Duncan Jones' blockbuster hopeful is borderline incoherent and appropriately recalls a Lord of the Rings video game run amok. But Jones has cut his teeth on realistic small-scale sci-fi worlds like Moon and Source Code, and if it doesn't get away from him because of its size, Warcraft looks to be a great large-scale introduction of that aesthetic.
2. Ghostbusters
Everything we've seen from director Paul Feig's Ghostbusters reboot so far has been sort of boring, aside from knowing Charles Dance will show up in some form. There's the new lineup of Leslie Jones, Melissa McCarthy, Kristen Wiig, and Kate McKinnon standing in front of the new Ecto-1. Then there's the lineup standing in front of green smoke. Then there's the lineup standing in front of an overturned bus. Then there's the bizarrely gritty black-and-white individual character posters that seemed to forget what kind of movie Ghostbusters is supposed to be. Looks teaser-bland now, but all these folks are comedy heavyweights. Don't sleep on this blockbuster-to-be.
1. Captain America: Civil War
Admit it: So far, most of the movies in the multi-billion-dollar Marvel Cinematic Universe run together. You got your main character fighting an unmemorable bad guy with the fate of the world in the balance, culminating in a climax where a laser shoots into the sky for some reason. That figures to change in Captain America: Civil War, which may bring more characters than an Avengers movie, and which figures to disrupt the formula. It takes a real set of iron men (if you catch our drift) to pit both of the MCU's most iconic heroes against one another, but that's exactly what Civil War will do. Granted it probably won't last for too long, but having Captain America and Iron Man at odds really starts to shake up Marvel's methods. Who ya got.