This 'Warcraft' Movie Can't Get Out of Its Own Way
The "problem movie" has already cost over $100 million.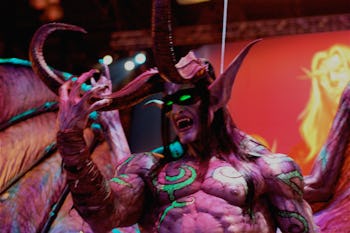 Rob Fahey/Flickr
Warcraft Director Duncan Jones is happy with the date picked for the opening of his movie — June 10, 2016, the same lucrative weekend as this summer's Jurassic World — but that doesn't change that his studio, Universal, still views it as a problem movie.
The parent studio is concerned because Legendary Pictures, with whom Blizzard Entertainment partnered for the project, doesn't have the greatest track record in making back the money it spends making movies. Warcraft is reported to have cost over $100 million already, which means box office would have to be pretty impressive for a so-called "video game movie." A leaked trailer from San Diego Comic-Con didn't exactly inspire faith either, which Jones acknowledged.
There are plenty of things for fans to geek out on, like intricate props and footage of the fantasy world, but Universal is understandably apprehensive about its broader appeal.
World of Warcraft has millions of subscribers, which still isn't enough to justify nine figures, even if they all see the film twice. And history tells us that it's rare for a film to make a successful transition from the computer screen to the big screen. There's no way for Universal to back out at this point, with all the money Legendary has spent, so continually pushing back the release, building anticipation, and refining the film is the best they can hope for.