'Star Trek Beyond' Trailer Offers an Alien Idris Elba, Blaring Beastie Boys
The trailer for the third new 'Star Trek' movie showed up online ahead of its intended premiere playing before 'Star Wars: The Force Awakens' this weekend.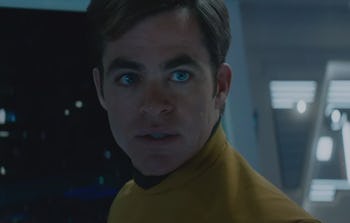 YouTube
The first trailer for Star Trek Beyond, the third movie in the long-running franchise, leaked today online in German. But before you could say "Lange leben und gedeihen," (that's "live long and prosper" to you Anglophones), Paramount Pictures decided to upload the official HD version to YouTube.
The trailer was initially set to premiere in front of Star Wars: The Force Awakens (previous Star Trek director J.J. Abrams' other* franchise with "Star" in the title), but Paramount did a good job of swooping in and taking down any links to the leak on YouTube before posting the real thing.
You don't need to be multilingual to recognize the blaring Beastie Boys track that plays over the whole thing. It's a nice little nod to director Abrams' 2009 movie, which jump-started a new iteration of legendary sci-fi writer Gene Roddenberry's beloved story and featured "Sabotage" in a key scene.
Abrams isn't at the helm this time around — he's a bit too busy at the moment. Instead, former Fast & Furious director Justin Lin has stepped in to direct the adventures of the Starship Enterprise.
The trailer looks like a faithful continuation of the sleek visuals, kinetic energy, and semi-goofy tone of the first two. The Enterprise looks like it gets completely destroyed this time around, but hey, at least the crew has spiffy new uniforms. We also get a look at the unnamed new species played by actress Sofia Boutella and what we assume is a brief glimpse at Idris Elba's new villain character, though he's only heard in voiceover.
The movie will boldly go where a ton of movies have gone before when it premieres next year on July 22, 2016.