Kevin Feige Confirms Ryan Coogler Will Direct Marvel's 'Black Panther'
The Marvel Studios president gave the good news in an interview with Empire magazine.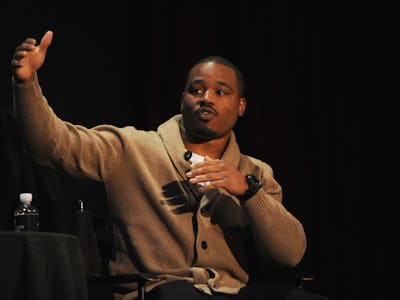 Getty Images
Following one director dropping out and a few left turns, it looks like Marvel has found the right person for the job to direct its upcoming Black Panther movie.
Though the hire was heavily rumored earlier in the month, an interview in the newest issue of Empire magazine from Marvel Studios head Kevin Feige confirmed that Fruitvale Station and Creed director Ryan Coogler will be in the director's seat.
The decision follows in the footsteps of Marvel recently choosing many up-and-coming directors to helm the big-screen adaptations of many of their newest heroes, kickstarted by the massive success that director James Gunn had on Guardians of the Galaxy. The comic book studio later hired relative newcomers Scott Derrickson, Jon Watts, and Taika Waititi to direct Doctor Strange, the untitled Spider-Man movie, and Thor: Ragnarok, respectively. Unfortunately, none of these new directors are women, but the fact that Marvel enlisted a talent like Coogler to handle the first predominantly African-American superhero movie is a step in the right direction.
The question now is whether Marvel will let Coogler do his thing with such an important character as Black Panther, a.k.a. T'Challa, who will be played by actor Chadwick Boseman. Polygon, reporting on Feige's not-yet-online Empire interview, writes that "Feige said that the main reason they decided to bring the story of Black Panther forward was because of how influential his character would be on the upcoming Avengers films, Infinity War — Part 1 and Infinity War — Part 2."
Marvel has a long history of alienating truly talented filmmakers because of its overly homogenized idea for the Marvel Cinematic Universe. With the strange and magical details coming into play in Derrickson's Doctor Strange, and now introducing the rich and vivid world of Black Panther's home of Wakanda, maybe Marvel realized it should let filmmakers prove why they were hired in the first place.
Coogler is a fine filmmaker, and if he doesn't end up dropping out on this Marvel project like Ava DuVernay or Edgar Wright did with Ant-Man, then we're in for a phenomenal blockbuster hopeful. Black Panther is slated to hit theaters on February 16, 2018.