The Comedy Duo Behind 'Horrible Bosses' Will Write the New 'Spider-Man' Reboot
Wait, is this going to be a funny Spidey?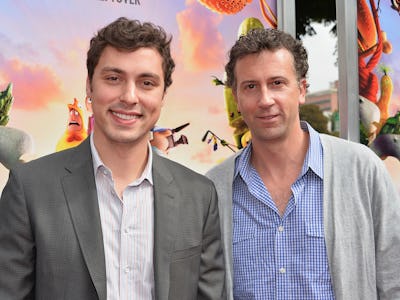 Getty Images
The new Marvel-approved version of your friendly neighborhood Spider-Man just got its screenwriters.
Following last month's announcement that relative newcomer Tom Holland would don the blue and red mask and leotard in the lead role of the webslinger, and that even more relative newcomer Jon Watts would plant himself in the director's seat, now comes word that the writer-director duo John Francis Daley and Jonathan M. Goldstein are set to write the script for the new Spidey reboot.
Daley and Goldstein most recently wrote and directed the upcoming new installment of the Vacation series. They got their start by writing the screenplay for the surprise comedy hit Horrible Bosses and had a "Story By" credit on its sequel; other of their credits include Cloudy with a Chance of Meatballs 2 and The Incredible Burt Wonderstone. It's also worth mentioning that Daley played Sam Weir on the influential and canceled-too-soon series Freaks and Geeks.
This hire is telling if you're trying to guess Marvel's direction on the $4 billion franchise. Director Sam Raimi's original Spidey trilogy did away with most of Peter Parker's trademark quips for a more classic approach, and while director Marc Webb's clusterfuck one-two punch of The Amazing Spider-Man and its sequel tried to squeak by on Andrew Garfield's geeky charm and Emma Stone's Emma Stoneness, it didn't make with much funny.
Since Marvel's producer extraordinaire described the next version of Spider-Man as a "John Hughes movie," it may fit nicely with Daley and Goldstein's ability to get some genuine laughs out of lovable losers. The big question is whether they can can produce some adequate web-slinging adventure in this, the third big-screen iteration of Spider-Man in just over a decade. Audiences may be too used to Peter Parker and his pubescent mutant spider problems.
The untitled Spider-Man reboot is slated for release on July 28, 2017, but you'll probably get to see him before then. The character has a rumored appearance coming in next year's Captain America: Civil War.