'Power Rangers' Movie Pushed to March 2017, So It Might Be Not-Awful
Lionsgate is having more confidence in their teenagers with attitude.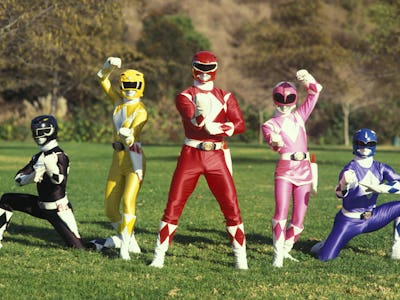 Saban Brands
Lionsgate has shuffled the dates for its two biggest productions slated for 2017: The final Divergent and their brand-new Power Rangers, which they hope launches a multi-film franchise. Originally scheduled to open during the cold, dead month of January (the 13th), Power Rangers now has a new release date for March 24, 2017.
This indicates a serious approach by Lionsgate to their reboot of Saban's lucrative TV and toy franchise that began in the '90s. Built on action franchises, and with The Hunger Games having run its course — Lionsgate has allegedly considered prequels — they seem to be willing to invest in Angel Grove's finest.
And a March release shows more confidence in the production, which in fact might be the best month. On its new date, Power Rangers will compete against Dark Universe: The Mummy, which is Universal's attempt at a Marvel-style universe starring the (copyright-free) classic monsters. Throughout March, we'll witness Hugh Jackman's swan song as the most popular Canadian comic book mutant The Wolverine 2, Kong: Skull Island (which is also a launch pad to a cinematic universe), the third Smurfs, and Ghost in the Shell, starring Scarlett Johansson.
Lionsgate's Power Rangers is currently in production with Dean Israelite directing. The film stars Naomi Scott, Darce Montgomery, RJ Cyler, Ludi Lin, and Becky G as regular teenagers who become superheroes to defeat the evil Rita Repulsa.