Meet Naomi Scott, Your New 'Power Rangers' Pink Ranger
The first teenager with attitude has been chosen.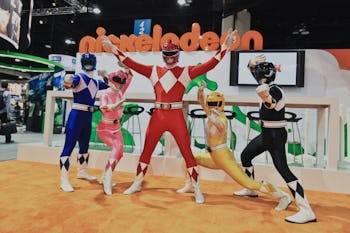 Getty Images
All twenty-something guys (and some girls) still remember their first crush on Amy Jo Johnson, "Kimberly" from Mighty Morphin' Power Rangers. But the new Power Rangers movie, slated for January 13, 2017, has cast a young up-and-comer to win the hearts of a new generation as the new Pink Ranger, and is the first official selection to lead the movie.
Naomi Scott, who was previously in The Martian and Fox's Terra Nova, will be playing Kimberly Hart, who transforms into the Pink Ranger.
It's been known that the producers are looking to cast young, relative unknowns for their Power Rangers movie, and they've done just that. Scott is a young actress at just 22-years-old, so yes you are old and you are unfulfilling all your dreams.
Kimberly was Angel Grove's resident valley girl, a brunette Barbie doll and gymnast who actually had a little more depth than most people remember her for. (She once outsmarted the villains by posing as Rita Repulsa, their evil Queen, while kidnapped for a failed body switch).
Power Rangers will be released by Lionsgate in January 2017. Project Almanac director Dean Israelite will be helming the film with a script by X-Men: First Class scribes Ashley Miller and Zack Stentz.