A New App Aims to Make Life in Germany Easier for Syrian Refugees 
'Welcome to Germany' hopes to answer questions like: How do I apply for asylum? Where is the nearest doctor?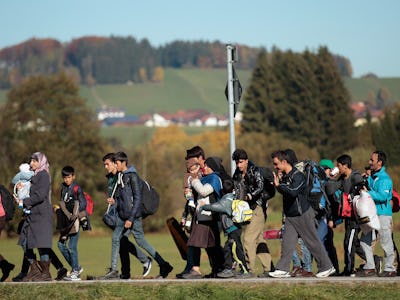 Johannes Simon/Getty Images
Germany has more asylum applications than any other country in the European Union. An estimated 800,000 to 1 million refugees are trying to enter the country and rebuild their lives. With that comes the questions that arise when anyone moves — compounded by the magnitude of their situation. Hoping to answer the questions of the thousands of refugees attempting to settle, two Dresden-based companies have developed the app Welcome to Germany.
Available in Arabic, German, and English the app is an updated version of Welcome to Dresden, which debuted this summer. Earlier this year Dresden was considered the epicenter of "anti-immigration hostility," an environment that inspired German tech companies Heinrich & Reuter Solutions and Saxonia Systems to design a product that could actually help the refugees. This app, Heinrich & Reuter CEO Peggy Reuter-Heinrich told The Guardian, could help asylum-seekers deal with bureaucratic process better than paper documents.
Besides outlining the asylum procedure, Welcome to Germany informs users on how to get legal advice, accommodation, and social services. It links to Germany's laws and regulations, while also providing users with information like where is the best place to get food and where can they take a course in German.
In August, Germany announced it could take up to 500,000 refugees every year for "several years" and would allow Syrians to apply for asylum regardless of how they arrived to the country. Since then authorities have been overwhelmed with trying to provide accommodations, health services, and registration to the massive influx of people.
Welcome to Germany is a worthy step but it will take more tangible resources — as well as a change of heart for some Germans — to acclimate these refugees to their new home.